PRODUCTION DETAILS

Book, Music & Lyrics by

Richard O'Brien

Original Music and Arrangements by

Richard Hartley

Production Design - Nigel Triffitt
Costumes - based on designs by Sue Blane

Production Manager -
Musical Director -
Lighting -
Sound Operator -

Produced by Paul Dainty

Principal Cast:

Dr. Frank N. Furter:

Tim Ferguson

Janet Weiss:

Tottie Goldsmith

The Usherette/Columbia

Dee Smart

Magenta:

Jennifer Vuletic

Company Manager:
Stage Manager:
Assistant Stage Manager:
Floor Electrician:
Head of Wardrobe:
Sound Operator:
Radio Mike Technician:
Re-staging Choreographer:

The Band:

This production is not the experience that Rocky Horror started out as, but is more of a tribute to the film. The director/designer, Nigel Triffitt was hired in 1992 despite the fact he had always disliked the show and the film.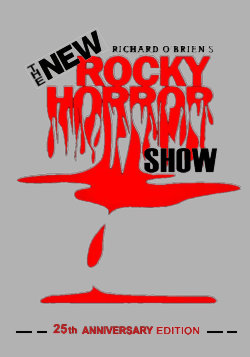 Review:
The final outing for Nigel Triffitt's misguided production, this time at Star City Casino in Sydney, and touted as the 25th anniversary show. Bearing almost no resemblence to it's roots, this over-blown production is Rocky at it's worst, this time with the overly skinny Tim Ferguson as Frank and a cast of also-rans from previous runs of the same show. By 1998 the syrupy musical backing of this version was painfully dated.