| | |
| --- | --- |
| | |
| | Opened: Rialto Theatre, West End, QLD, 29 June 1984 then Theatre Royal Sydney, NSW, 25 August 1984 |
PRODUCTION DETAILS

Book, Music & Lyrics by Richard O'Brien
Original Music and Arrangements by Richard Hartley

Directed by Daniel Abineri
Production Design - Brian Thomson
Costumes - Sue Blane

Technical Stage Manager - Frank Harlow
Musical Director - William O'Riordan
Lighting - Peter Shoesmith
Sound - Hill Audio

Assistand Director -

Brett Murphy

Additional Costumes and Alterations -

Fiona White, Judith Cobb & Maisy Stone

Lighting Design -

Donn Byrnes

Choreography -

Chrissie Koltai

Company Manager -

Christene Platzer

Produced by Wilton Morley and Peter Davis

Principal Cast:
Dr. Frank-N-Furter: Reg Livermore
Janet Weiss: Anne Looby
Brad Majors: Graeme McKeachie
Riff-Raff: David Wheeler
Magenta and Usherette: Natalie Mosco
Columbia: Gina Mendoza
Eddie and Dr. Scott: Wayne Pygram
Rocky Horror: Ray Coughlin
The Narrator: David Clendinning

The Band:

Musical Director/Keyboards - WilliamO'Riordan

Tenor Saxophone -

Paul Andrews

Guitar

- Harvey James

Bass Guitar -

Tom Falkingham

Drummer -

John Bliss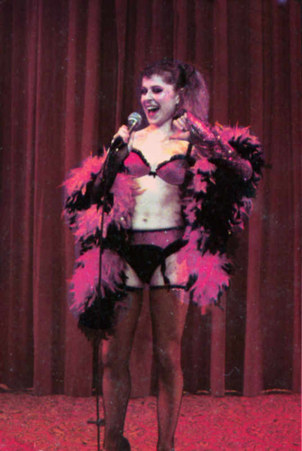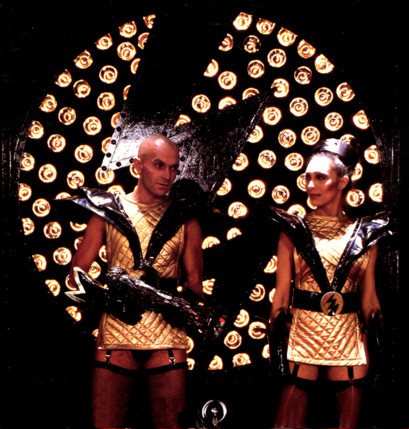 The show recreated the original set with scaffolding on the sides, for the Brisbane shows. In Sydney it played at The Royal, which is not a cinema. It was not as successful, as it was in Brisbane.
The Rialto West End (literally blew away in a storm)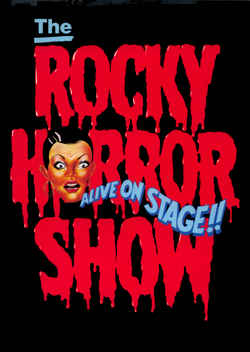 Review
Having never had the opportunity to see the Original Australian Production, but already being a fan of Reg Livermore and having heard the Australian Cast recording more than any other, this was the chance of a lifetime, and although perhaps a little less exciting than in 1974 it didn't disappoint. The venue in Brisbane was the Rialto Theatre, an almost derelict Picture theatre. Reg's Frank is something to behold, the kind of grotesque one would expect from an Australian mind. I had front row seats for this show and it's the version that has remained most vivid in my memory, perhaps because I'd never seen Frank make so much sense before, the degredation showed and despite his ugliness you could relate to the loss of self control that had lead to his downfall, more than just a pretty face!

This show didn't tour, Reg only performed in Brisbane for a couple of weeks then Sydney, presumably because he'd never performed Frank in the Sunshine State 10 years earlier, when the Southern States had had easy access. Betty Blokk-Buster Follies was another missed by Brisbane, possibly due to the strict cencorship laws in place at the time. Betty Blokk-Buster being in a way the soul of Frank'N'Furter as seen through the mind of Reg Livermore, in the incarnations of other misfits and losers who themsleves were caught up in their own delusions, set in a German style circus of the absurd. Betty was filmed during it's run, played at the cinema, was later released on video and has now been released on DVD. For more information about Reg Livermore, please visit his site:http://www.reglivermore.com/
Review by Prue Charlton for The Sydney Morning Herald - August 1984

THE ROCKY HORROR SHOW: It seems like only yesterday that we were all blown out by Reg Livermore's Frank-N-Furter (and Kate Fitzpatrick's Magenta) when the Rocky Horror Show opened at the New Arts Theatre in Glebe. In fact, it was a whole decade ago, and worlds away. The venue for this production should be enough to set off warning bells
in the mind of anyone who remembers the original. Whereas the New Art and Rocky Horror were made for one another (sharing an agreeable moth eaten decadence), the Theatre Royal is so clean, so plush and so favoured by North Shore matrons that no self respecting pervert would be seen dead there. For Frank N Furter, it is a very big come down indeed You can't blame Reg, he is one of our most original, most talented performers and it is not his fault that there's so little offering these days. He still looks great in fishnet stockings and he can still do Frank N Furter better than anybody, it just saddens me to think that the best we can do for such a brilliant man is making him do the Time Warp again. A revival of a show should be just what it says, a production which breathes new life into something old and forgotten. But there's very little new or lively about this Rocky! It has simply been taken out of the cupboard, dusted off and wheeled back on stage in a manner which does the show and the star a disservice. Some clues as to how, and why this happened, lie in the program. Apart from Livermore and Wagstaff the actors are almost unheard of. More importantly the show has no less than three producers (Wilton Morley, Peter Davis and Harry M Miller) against one very young, inexperienced director We should not be surprised, then if more attention seems to have been given to making the show pay than to making it work What the producers have ignored is the fundamental nature of the Rocky Horror Show, it is meant to be bent, to be tacky and to smell slightly of unwashed armpits It quite deliberately sets itself up against all that the Theatre Royal stands for (PC).