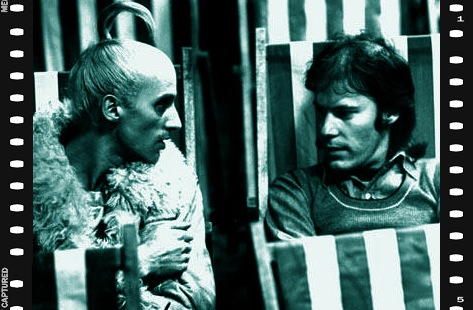 Jim Sharman was asked to direct the Sydney production of 'Hair' in 1969, when he was 24 years old. It was the first time that a local director had been used on a Broadway production in Australia.
"You had . . . a very puritanical society being confronted with something that was very loud in expressing the need for sexual liberation and I think if there was a central issue that confronted people, it was that one."
(on the 'nude scene')
" . . . it was absolutely visceral theatre and in that way it connects to the times. There's a famous quote about the late sixties which is, 'If you can remember it, you weren't there,' and in essence that also applies to 'Hair'."
"['Hair'] was an absolute response to the Vietnam War and inside that was a . . . curiously quite conservative and rather Christian parable of the kind of Christ-like Claude . . . representing an entire generation who are being sacrificed to a war that at the very least was highly questionable."
Jim Sharman was born 12 March 1945 in Sydney, Australia, as James David Sharman. He spent much of his young life at the circus, where his father and grandfather ran a travelling boxing sideshow. Taking an interest in theatre, he attended the National Institute of Dramatic Art in Sydney, graduating in 1966. Sharman became interested in directing experimental theatre. While directing the Sydney production of Hair in 1970, he met a young architectural student named Brian Thomson, who would become his longtime set designer. His local production of Jesus Christ Superstar caught the attention of lyricist Tim Rice, who brought him and Thomson to London in 1972 to stage the production, which included Richard O'Brien in an understdy role, who would catch the eye of Sharman and introduce him to his idea for a show. Sharman directed all the original casts of Rocky Horror but the original Australian Cast of The Rocky Horror Show was Sharman's favourite. Directing the stage productions of "The Rocky Horror Show" gave Sharman the opportunity to direct its film version The Rocky Horror Picture Show (1975) and its sequel Shock Treatment (1981). Sharman went on to become one of Australia's most respected theatre directors.
His stage work has encompassed over 80 productions, including opera (Don Giovanni, Threepenny Opera, Voss, Death In Venice) classics (Shakespeare, Strindberg, Wedekind, Brecht), international writing (Pinter, Genet, Garcia Lorca, Joe Orton, Sam Shepard) and a large body of original Australian work, including much of the stage and screen work of Patrick White. Jim's films include: The Night The Prowler; The Rocky Horror Picture Show for 20th Century Fox, and the AFI nominated portrait of Patrick White: The Burning Piano for ABC-TV. Jim was Artistic Director of The Adelaide Festival of Arts and Lighthouse - State Theatre of South Australia. He developed a film project with Stephen Sewell and, in September 2005, staged Britten's Death In Venice, starring Philip Langridge and conducted by Richard Hickox for Opera Australia.
JIM SHARMAN, DIRECTOR: There was certainly a "born in the trunk" upbringing, with travelling shows and moving around Australia.
It was very romantic, very sensual and very appealing.

JIM SHARMAN: I remember seeing a performance at quite a young age, I think early teens.
And I think my parents, being a little concerned that I wished to be a performer, inquired, and I said "No, there must have been somebody" - I actually do remember the phrase - "who imagined that up."
And they said, "Yes, there is" and I said, "That's what I want to be."
From Hair to Jesus Christ Superstar to London's Royal Court, he went on to direct the musical of the Rocky Horror Show, then co-wrote the film version.
JIM SHARMAN: Rocky Horror, I suppose, both on stage and on film, holds the special place because it was the one that I was involved in creating from the ground up.
JIM SHARMAN: It was kind of the period of the musicals and the period of the popularism, as it were.
And there was something where I really wanted to dig a bit deeper.
And that, I think, in many ways, was a richer and more interesting period, though not necessarily as popular.

More than 30 years on, Jim Sharman's passion for theatre that does much more than just entertain is undiminished.

JIM SHARMAN: I like theatre that transforms you - be it a musical, be it an opera, be it a play - but actually shakes you up and makes you see the world in a different way.
No question that, in a way, one has seen life as an adventure. I've never really veered from that idea.
I've never, basically, settled down.
And, in a funny kind of way, I don't think I've ever had a job.

Tracy Bowden complete report. http://www.abc.net.au/7.30/content/2004/s1082596.htm