Montgomery Playhouse (Former Chinese Mortuary) February 3, 1976 played 103 performances, closing on May 30.
Destined To Be Born!

Cast

| | |
| --- | --- |
| Frank N. Furter | David James |
| Magenta/Trixie | Roslyn Roseman/Vikki D'Orazzi |
| Janet | Needa Greene/Sharon Widman |
| Brad | Robert Reynolds |
| Narrator | Richard Gee |
| Riff-Raff | Buddy King/John Kelly |
| Columbia | Paula Desmond/Kelli Whitehill (James) |
| Rocky | Bob Dulaney/Bill Tackey |
| Eddie/Dr. Scott | Emil Borelli |

STAFF/CREATIVE

Producer - D.J. Enterprises (David James)

Staging Director - Michael Amarino (Stage Manager for the Roxy Cast) based on Jim Sharman
Scenic Design - George Barcos, additions to the Brian Thomson set
Costume Design - Mary Piering, based on Sue Blane
Lighting Design - Fred Kopp
Musical Director - Michael Reno, later Steven Applegate

DAVID JAMES

Rock musical fantasy, Tuesday, Wednesday and Thursday at 7:30 p m.; Friday and Saturday at 7 and 10.30 p m, and Sunday at 7:30 p m. at the Montgomery Playhouse. 622 Broadway. S F Tickets $7.50 weekdays and $8.50 weekends available at major agencies.

Playbill

This was the United State's third staging, and only came to be, through Mr. James' persistance. Having been denied the rights by Lou Adler, a trip to London in October 1975, and a meeting with Michael White, saw Adler release the rights through The Morris Agency. It seems O'Brien, Sharman and Thomson, were unaware of this deal, as none are mentioned in the advertising. The show was a success, and should have toured the West Coast, but possibly due to the "dealings" of Adler and White, it was restricted to San Francisco only. A great pity!

The production followed the original format, and actually made use of the Roxy set, including the catwalk. A skylight above the audience flickered with lightning effects, in a canvas and scaffold covered room, with seating for 300, decorated to look like a ruined cinema, but was originally a Chinese mortuary (the slab was under the stage)
I met Ritz while we were both in HAIR. He was in London West End and I was on Bdway. I saw him in West End J C Superstar. (David James)

Photography by Nona Hatay
Robert Reynolds and David James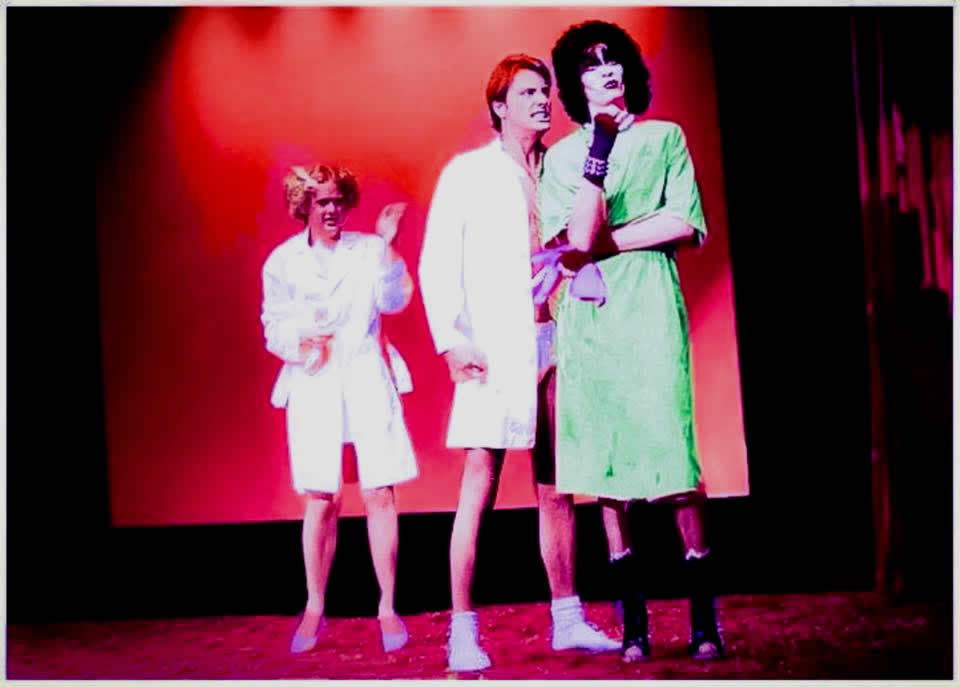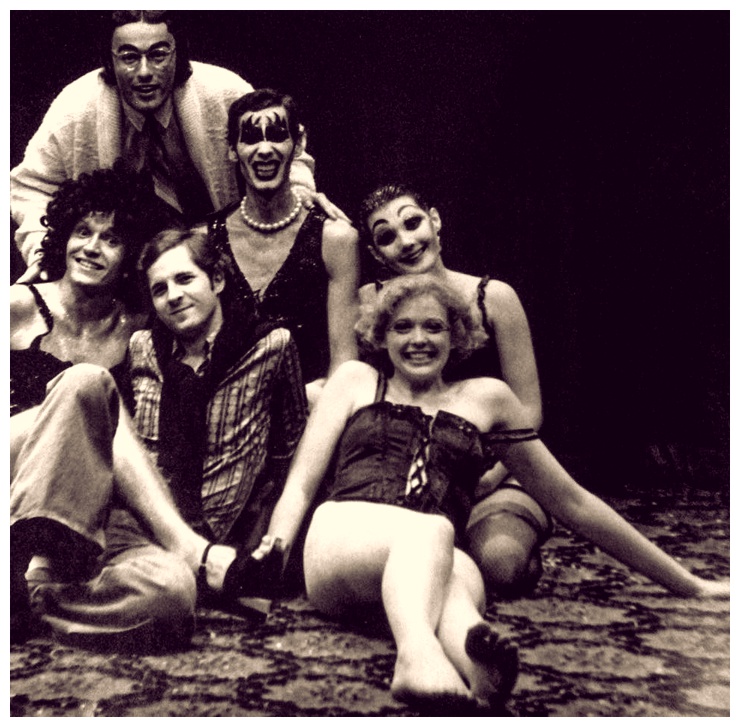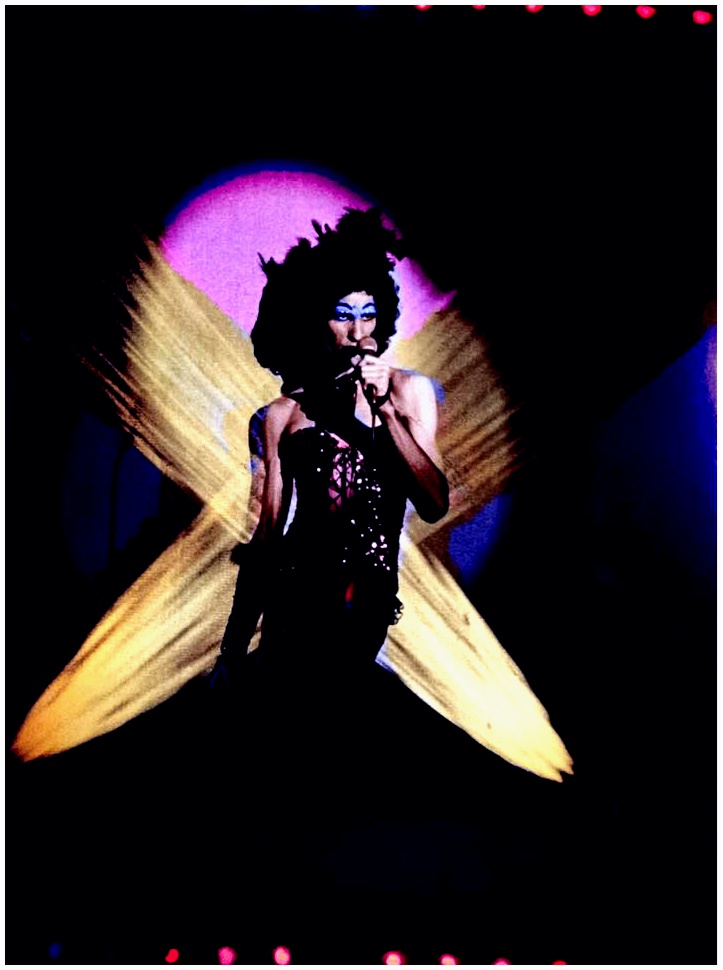 Kelli Whitehill and Emil Borelli

| | |
| --- | --- |
| Buddy King | Kelli James (Whitehill) |

David James and John Kelly (Understudy)

Performing Sweet Transvestite at a benefit in the bat wing velvet corset. It had a stand up collar, suede mitts and a fox stole (donned after the cape came off). This costume was only worn for personal appearances and the only photo of me wearing Curry's make up design. I felt it made me look too beautiful with no decadence. (David James)


David applies his make-up

For me, the bizarre glam rock make up worked. It did not work for my understudy and he followed Curry's make up design the 4 performances he subbed for me.
That make up took no less than an hour for me to apply. I had an obsession with my eyes and drove the wonderful artist who made my false lashes crazy. I was a vintage shop fiend. Big find was the beaded Edwardian choker I wear for the Floor Show.
There are performances that I just slicked my hair back, no wig. Vidal Sassoon designed my hair cut. I constantly explored because I did not want to project a Curry clone. At some point I found a variation that worked. I don't think it gets any better than Curry. (David James)

| | |
| --- | --- |
| Buddy King | |

Kelli James (Whitehill)

Bill Tackey, David James, Robert Reynolds, Sharon Widman, Buddy King, Kelli Whitehill, Vikki D'Orazzi

David's shoes were made by the same people who made Tim Curry's for The Roxy

Cast and Crew

| | |
| --- | --- |
| | |
| Vikki D'Orazzi, David James, Kelli Whitehill (AKA Kelli James) | David James, Paula Desmond, Roslyn Roseman, Bob Dulaney |

Sharon Widman, David James

Robert Reynolds, Sharon Widman

| | |
| --- | --- |
| | |
| David James, Kelli Whitehill | Kelli Whitehill (James-Chase) |

David James

The theatre (bottom left) was in the "sleazy" part of town, as it should be!