Let's do the Time Warp Again!
Melbourne Opening October 24th 1975 Regent Palace Fitzroy, Closed May 28th 1977
PRODUCTION DETAILS

Book, Music & Lyrics by

Richard O'Brien

Original Music and Arrangements by

Richard Hartley

Exec. Producer -

Frederick J. Gibson

Musical Director -

Roy Ritchie

Lighting -

John Saltzer (courtesy NIDA)

Principal Cast:
Dr. Frank-N-Furter: Max Phipps
Janet Weiss: Paula Maxwell, Shirley Anne-Kear, and Diana Greentree
Brad Majors: Gregory Apps, later Steven Clark
Riff-Raff: Sal Sharah - later reprsied role in the 1978 Original New Zealand Cast
Columbia: Sue Smithers, Maureen Elkener, Shirley-Anne Kear, Joan Millar
Magenta and Usherette: Robyn Moase, later Joan Brockenshire
Eddie and Dr. Scott: Terry Bader, David Cameron, William Gluth
Rocky Horror: Graham Matters, Grant Whiteman, Clive Blackie
The Narrator: Tommy Dysart

Chorus:

Stephen Little

Creenagh St. Clare (Played Janet many times)

Keith Reid (Riff Raff for a week)
The Band:
The ACME Demolition Crew

Sound - John Morrison Sound Australia
Again the cast were allowed to put their own "spin" on the characters. Max playing Frank as a seductive, wittty creature with vampiric tendencies, Joan Millar channeling Ziggy Stardust. Tommy Dysart and his wife Joan Brockenshire (the Go Go Mobile couple from TV advertising) brought their experience and personal comedy to their roles, adding unexpected lines or surprises were not uncommon.

Oh, horror! It takes so much to rock Fitzroy


The Rocky Horror Show is coming to Fitzroy. Fitzroy, you will be pleased to learn, remains calm.
The facade of the old Regent Palace is a sight to behold. It is covered with dozens of crimson posters, each depicting the face of a very camp-looking lady and all the lettering drips with blood.
All that blood. Nothing like it has been seen since Squizzy Taylor's day.
The Regent until recently was Channel 7's tele-theatre but now they are busy changing kitsch to kink
Dusty TV props have been lumbered up to the gallery, a tinsel-covered sleigh, the New World Temptation barrel, circa 19/70, still containing un-opened letters of long forgotten hope.
Half a dozen bloodied, dummy corpses sprawl about the seats one* occupied by the kids and mums of the TV audience A hatchet is well and truly buried in the head of one.
Soon they will erect the neon-lit, multi-colored laboratory where the mad transvestite scientist. Dr Frank N Furter, creates his own monster, Rocky of the rippling muscles, to whom the doctor's intentions are more than just good friendship
They are trying to get a real operating table from the Royal Melbourne Hospital for that scene
Through the open doors from Johnston Street, passers-by survey the chaos inside with no more than mild
curiosity
Naked bricks and crumbling plaster, old wooden-backed cinema seats collapsed in a pile. The Rocky Horror Show is supposed to be set in a derelict picture palace and they have come to the right place.
"Marvellous" says designer Brian Thomson, pointing to a gap in the moulding. They will line the walls with demolisher's scaffolding and put threadbare carpet on the stage
The faded gilt splendor of the arched foyer is good too, although it will need a light doing over with the cobweb machine.



The show is a kind of comic night-mare set to rock.
Two clean-cut teenagers get mixed
up with the mad, bad Furter who has already botched one attempt to convert a human into the perfect male, the subject being a delivery boy who now has to be kept in the Coca-Cola machine.
One scene includes a shadow show of simulated sexual intercourse carried out behind a screen
Everyone finishes up in drag, but there is no message, says Thomson. It is just a spoof, sheer fun, sheer entertainment.
The Rockv Horror Show opened in London two and a half years ago for afew weeks. It is still running. It has played in America and Tokyo and grossed $1 million in its 18 months in Sydney.
Sooner or later, it seems, everything gets set to rock, even the Bible. Thom-son is now writing a disaster musical called Iceberg 76.
But disaster, horror or even covertly observed sex. Fitzroy, we fancy, has seen it all and learned to laugh, just as the audience of The Rock Horror show is asked to do.
It has even survived the trendies. Yes. Fitzroy can take anything!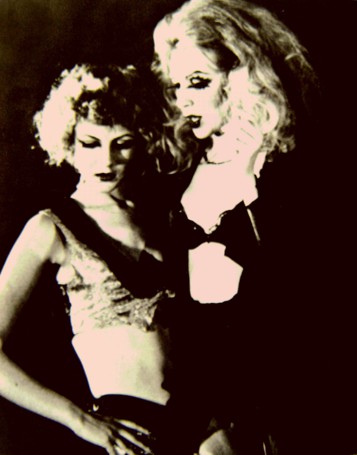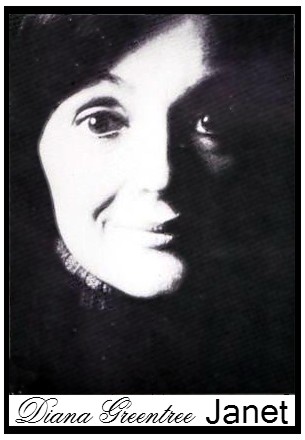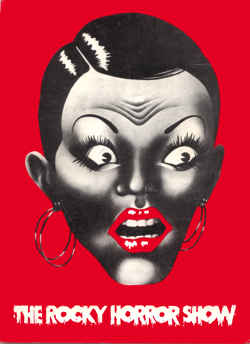 The darkness of the image was due to a printing error.
Review

The Melbourne show was a transfer from Sydney, of the original production and opened 18 months after the Sydney production at another run down cinema, the Regent Palace Fitzroy. The only cast member to travel with the show from Sydney to Melbourne was Sal Sharah. Max Phipps returned from England to play Frank. At first he was encouraged to copy Livermore, but Max took the character and moulded a new Frank. A beautiful "alien vampire", thin and athletic, with perfect comedic timing and a dry sarcastic wit. Reviewers at the time raved about his interpretation and said his only rival in the role was Reg Livermore. Max played the role for the entire run.

Fitzroy's Regent Theatre was amongst the largest of Melbourne's suburban cinemas. It featured a long foyer off Johnston Street, Fitzroy. The foyer possesed a barrel-vaulted ceiling painted and decorated in gothic fashion. The theatre's auditorium featured crystal chandeliers, an orchestra pit also stage and flytower for visiting singers and actors. The main house curtain was made of contured silk.
The Regent Theatre was an early casuality of television closing in September, 1960. The cinema was altered for a television studio for HSV 7. Then used as a legit theatre in 1975 for "The Rocky Horror Show".
Although it was relatively intact, it was derelict for years and demolished in 1983.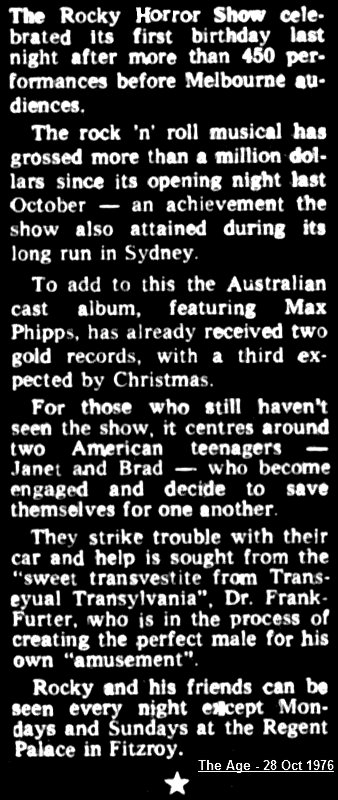 Fast and funny, degenerate, quite monstrous

Leonard Radic 27th Oct 1975


PLAY: The Rocky Horror Show.
THEATRE: Regent Fitzroy.
Inside the theatre (a one-time picture house dressed down for the occasion) you find gruesome dummies hanging from the ceiling.
Then no sooner do you take your aisle seat than you find a leering zombie looking down at you.
He stands there staring you out of countenance until you wilt. Whereupon he droops off to torment another patron.
Such is one's introduction to The Rocky Horror Show. It took Sydney 18 months to get rid of it; Melbourne should find trouble shaking it off as well.
New Zealander Richard O'Brien, who did the lot - book, music and lyrics, describes it as "a transvestite science fiction, rock-'n'-roll. B-movie musical"
One need only add that it is fast, funny, excitingly-staged, thoroughly degenerate, and to be taken strictly with a pinch of salt.
Stylistically it falls somewhere between satire and erotic fantasy.
lt's hero (if hero is the right word for such a monster) is Frank-N-Furter a refugee from the planet Transsexual and an inter-galactic drag queen.
Late one night, a couple of clean-cut all-American youngsters, Brad and Janet, stumble into his castle when their car breaks down.
Inside, to their consternation, they find the mad transvestite scientist, his hunchbacked butler and his hermaphrodite cohorts in the process of creating the Perfect Male - the definitive Charles Atlas specimen who is to be his playmate.
Brad and Janet respond to the challenge: "Don't do it; be it." What follows is better seen than believed.
If The Rocky Horror Show is anything, other than a bizarre and monstrous fun musical, it is a high camp parody of B-grade science fiction and horror movies and the whole 1950s scene
The music is heavy rock, a little old-fashioned now, thumped out by a band aptly named the Acme Demolition.
The Sydney production had Reg Livermore in the role of Frank-N-Furter. Here he is played, improbably but divinely, with all stops out by Max Phipps.
If at times he finds it hard to keep a straight face, who could really blame him?
The others are aptly cast, particularly Grant Wightman as the male beauty and Robyn Moase the cohort Magenta.
Jim Sharman'senergetic production goes at a furious pace for its full two hours. It should put Fitzroy briefly on the theatrical map.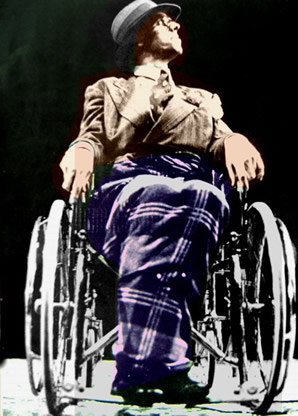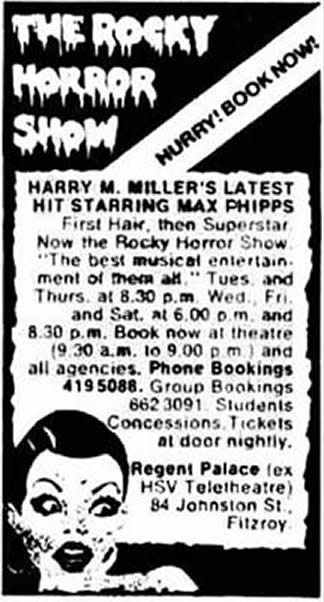 Bump In
A SELECTION OF PHOTOGRAPHS TAKEN BY JON FABIAN, SHOWING THE AUDITORIUM INTERIOR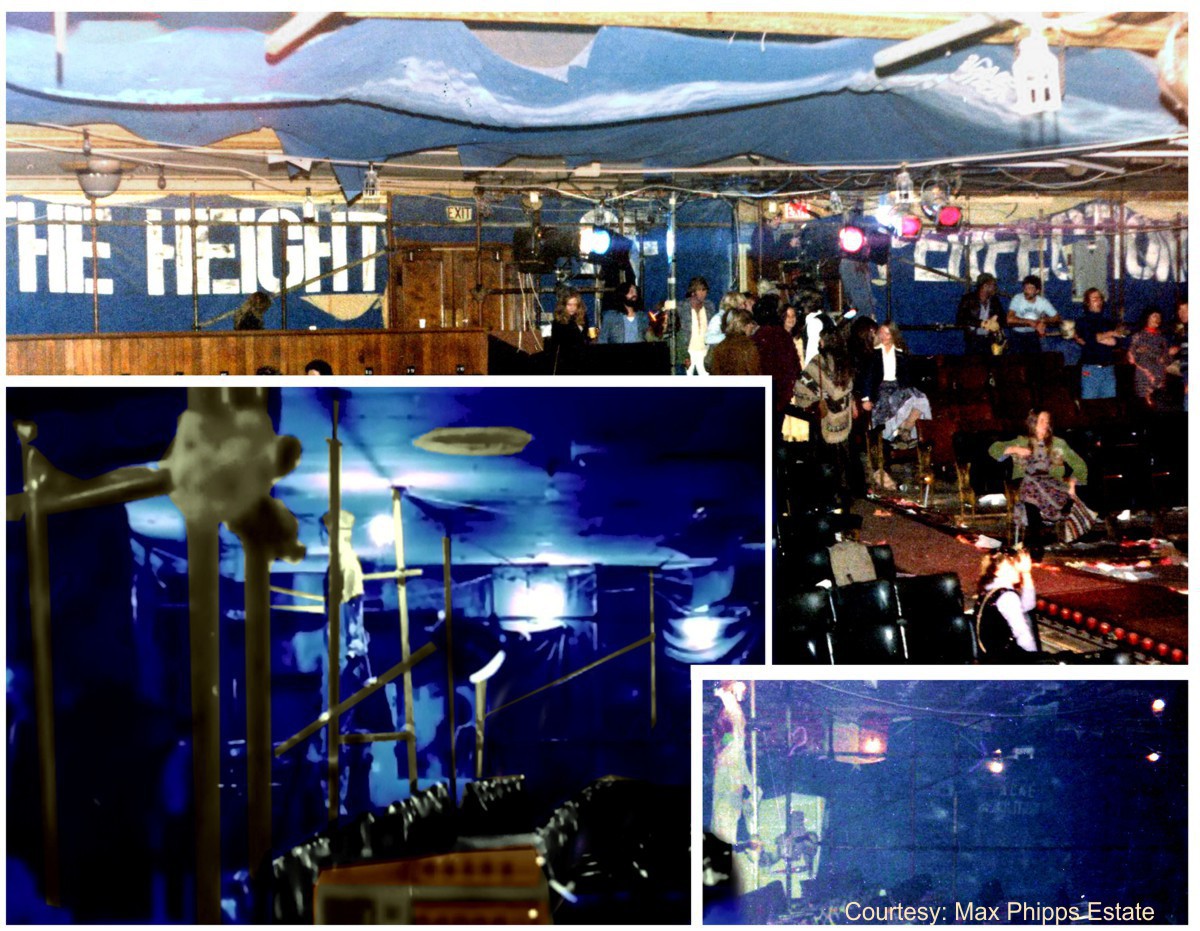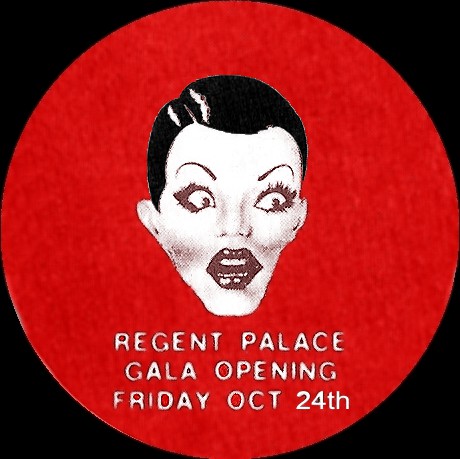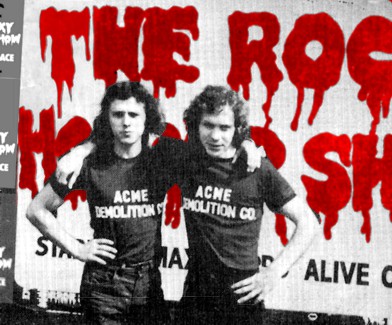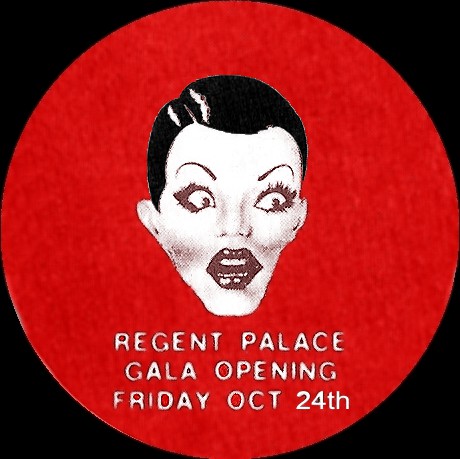 Frank Albrecht supplied the images above, from the Rocky Horror Scrapbook.

A cloud of gold glitter flies from the Usherette's tray as her guaze covering is ripped away by an Usher
Shirley-Anne Kear and Stephen Clark as Brad and Janet (Photo by The Beej)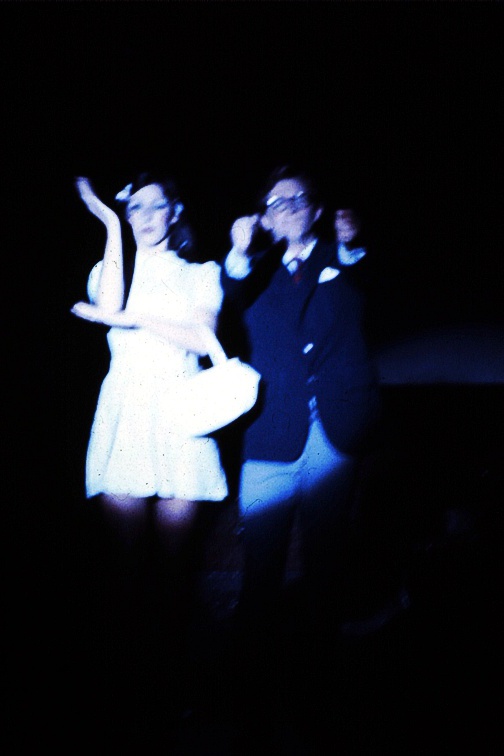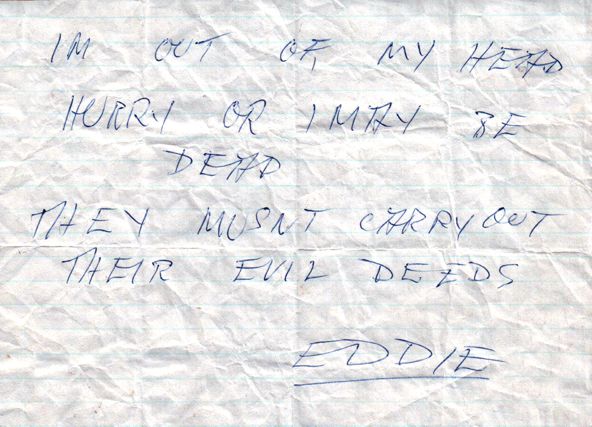 Tickets and Note (thrown by "Frank") from the Tracey Shannon collection" ( A self confessed "Rocky Horror Groupie" from the age of 14, who saw the show 200 times)

After the enormous success of Sydney, the show transferred to Melbourne. Sal Sharah, was the only original cast member to travel with the show.

Where Sydney is home to drag queens and used to exposure to the lurid, Melbourne wasn't. Traditionally conservative, the rat-infested cinema of Sydney's production, wouldn't have suited it's new home, instead it found a venue in Fitzroy, The Regent Palace. A true Movie Palace, with an ornate foyer and an immense auditorium with a balcony and close to 3000 seats.
The set, the largest ever built for the original concept, spanned the room starting at the edge of the balcony, and producing the effect of a single level cinema with seating for 700. The actual screen and rest of the auditorium lay behind the false proscenium and screen of the set, giving the illusion of no set, but a cinema under demolition.

The ornate but purposefully cobweb covered foyer was papered with old horror movie posters, while the decor ran to pinball machines and jukeboxes.
This was the most extravagant realisation of the condemned cinema "experience". Scaffolding and canvas, entombed the patrons, while a massive catwalk ran from the centre back door. Halfway it had a clear circular section that could be lit green from underneath. Due the size of the gantry, some action was restaged to occur there, including Frank's "arrest".

The show ran for 84 weeks, with capacity crowds of close to 900, including standing room, mostly due to the performance of Max Phipps as Frank n Furter.
Max was pushed to replicate Reg's performance, but as he's a talented actor, this gave way to a self invented character, the likes of which have never been repeated.
A mix of a Disney evil queen, a film buff, Bugs Bunny in drag, and Lucille Ball, in the form of a strongly built, incredibly tall, man, who towers over Brad and Janet.
Due to his size, his attempts to look cute are hilarious, but also menacing.

The rest of the cast are equally captivating.
Sal Sharah is again a complex Riff Raff, with hope and dreams of his own, and a characterisation that I deem the best of those who've played the role.

Joan Brockenshire was beyond sensational as Magenta/Usherette. Her Usherette was a maniac, taking full advantage of the ramp, to scream with excitement over the film's she's adored. As Magenta she's sex on legs, and incredible legs.

Sue Smithers was a very attractive Columbia in a spangly top and very short shorts.
Joan Millar was adorable as the Mouse Club fan, Columbia, in a new costume, giving her a Ziggy Stardust appearance. She even sang the Mickey Mouse Club theme!
Maureen Elkner, reprised her role from Sydney, as Columbia, vibrant and witty, while providing a death scene that was unforgettable in its beauty.

The version of Once In A While by Steven Clark was the best I've heard, along with the Floorshow intro music that was unlike any other.

Tommy Dysart was an intense Narrator with a booming voice, who made the most of every line. Very much the Master of Ceremonies.

The Rocky Horror Show at it's peak of production and exploration of characters.



The largest of all the original production sets, spanning a room that held 900. The theatre capacity was over 2000, but much of the actual auditorium lay behind the set


FULLY LIT
Photo below by The Beej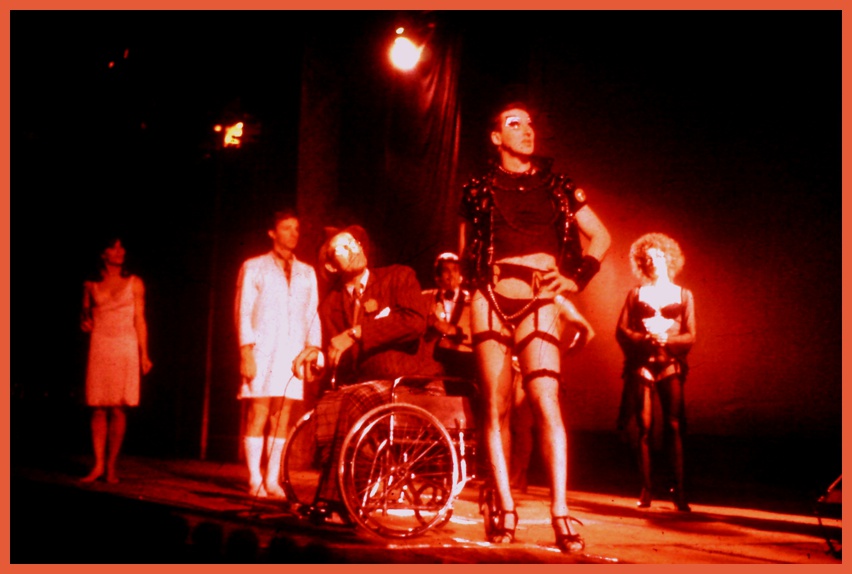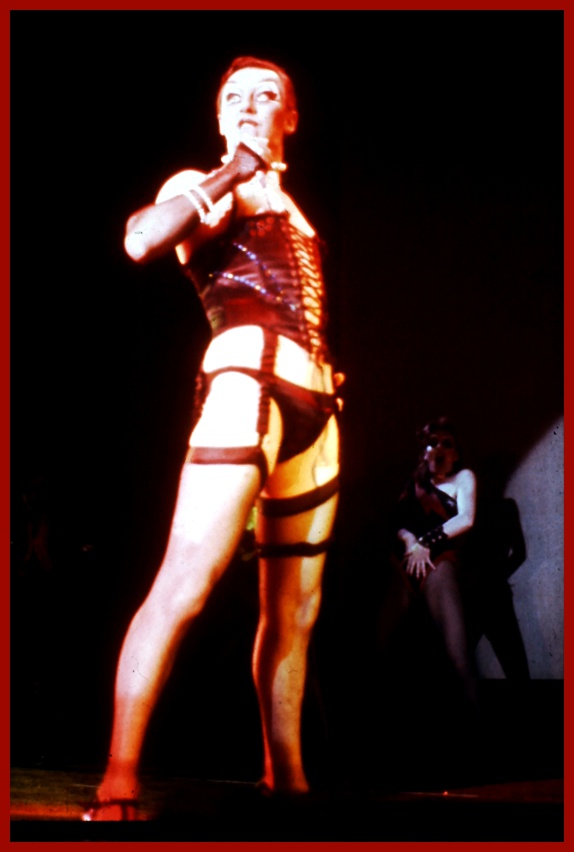 Photos by The Beej
Photos below by Jon Fabian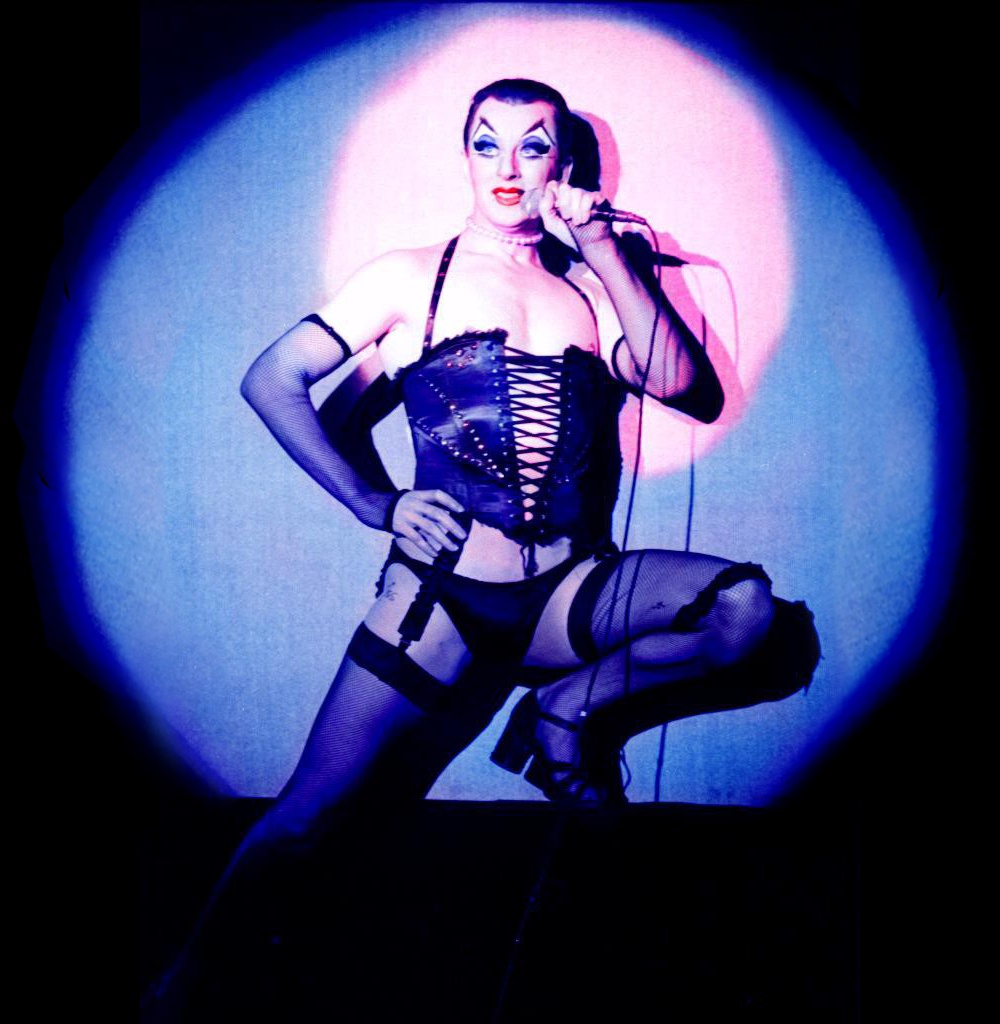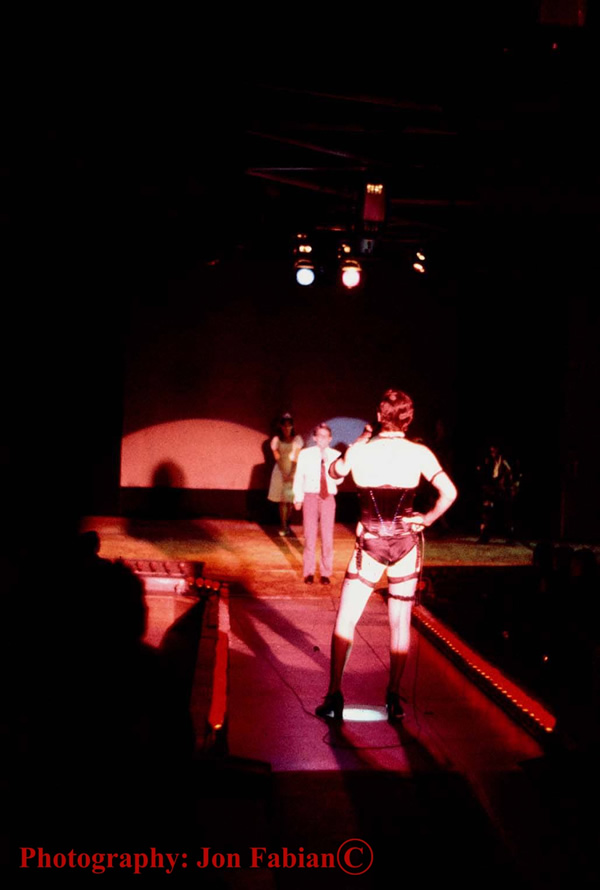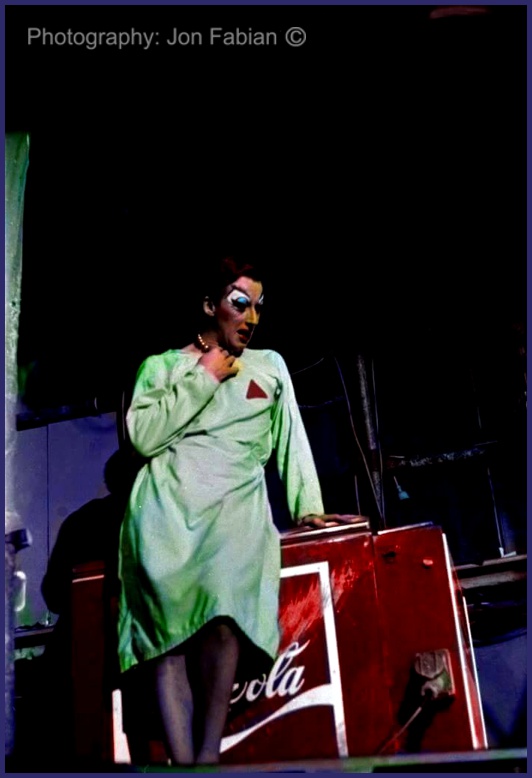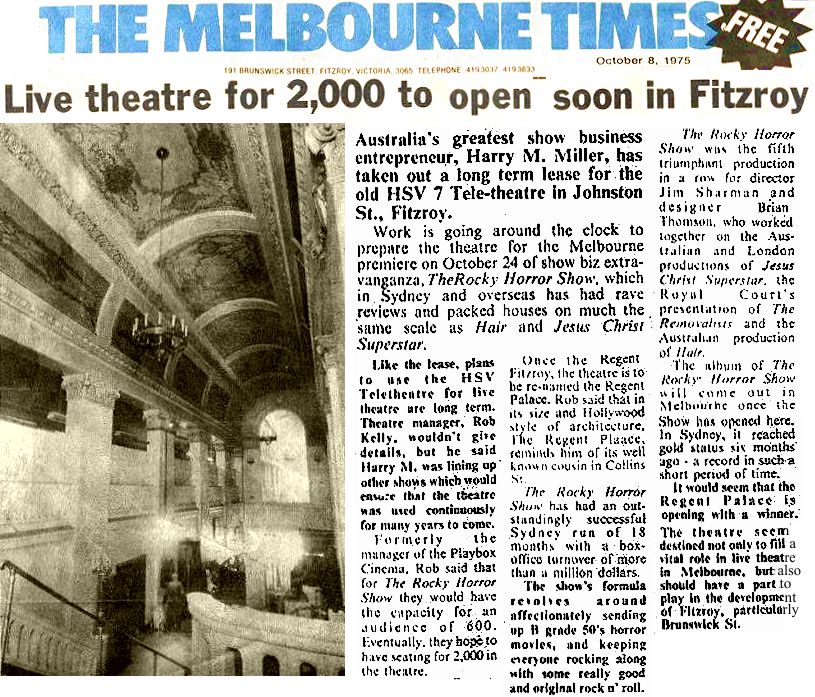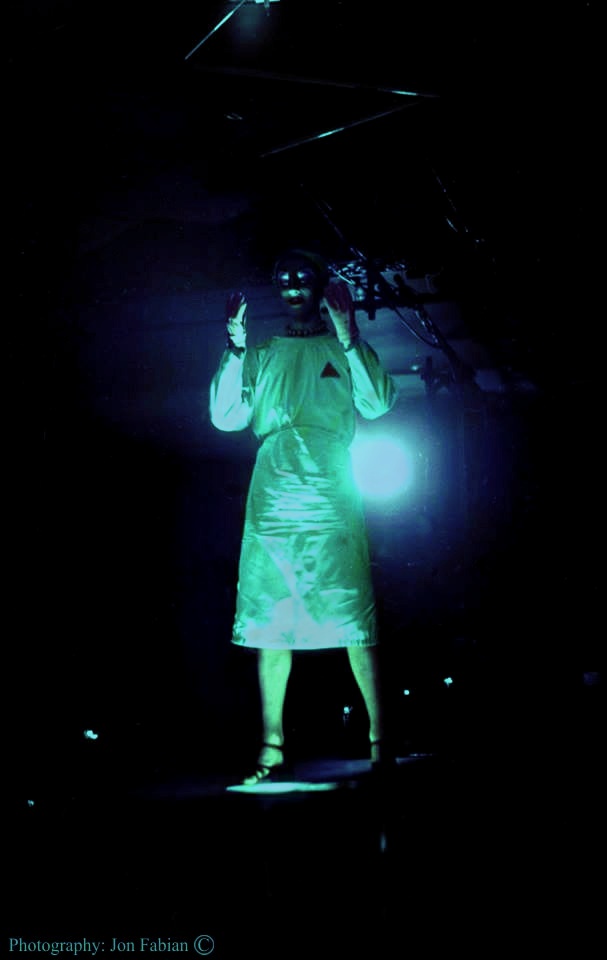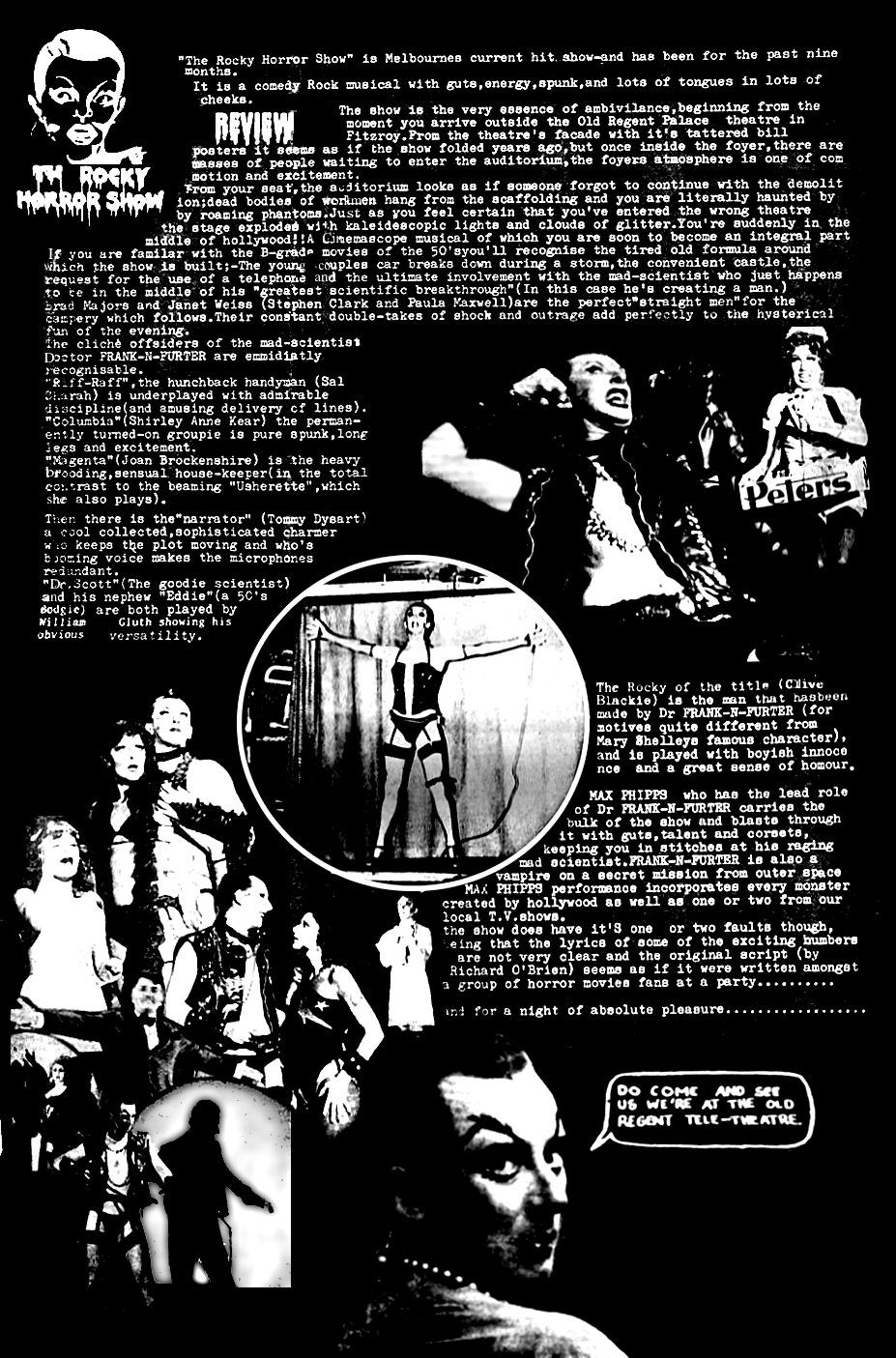 From the Estate Of The Late Max Phipps
SO SOPHISTICATED

Photos below by The Beej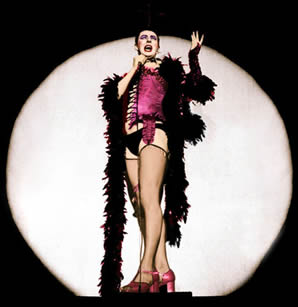 click to enlarge (photo taken prior to playing the role and before his interpretation was realised)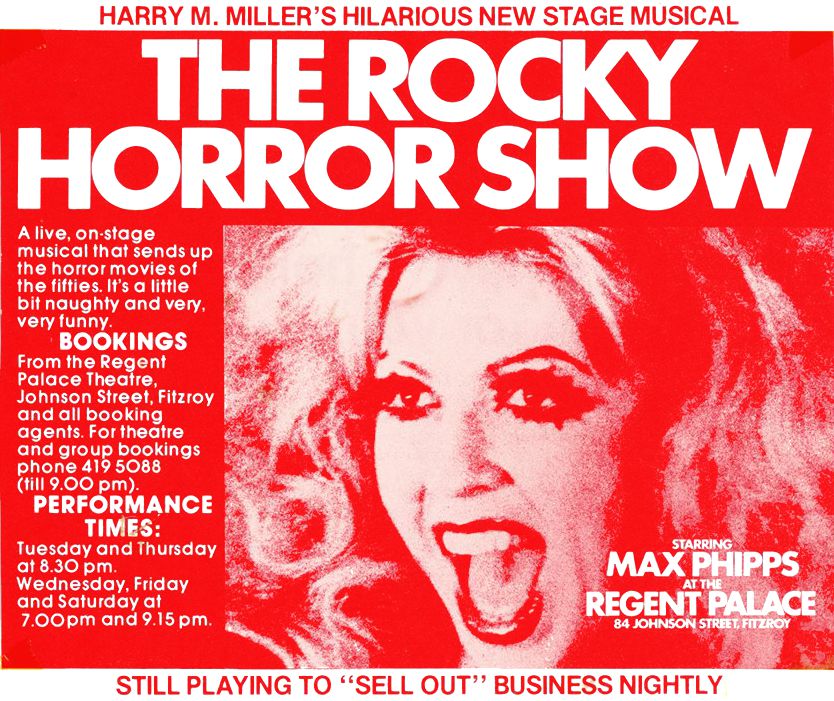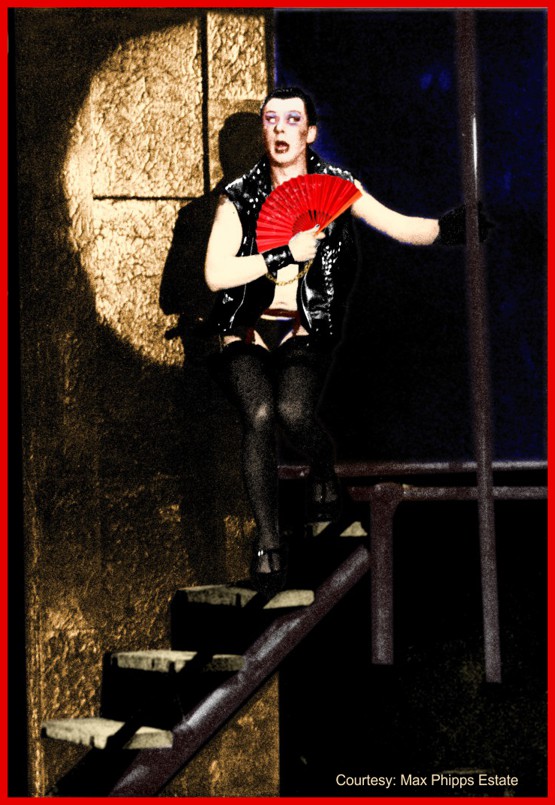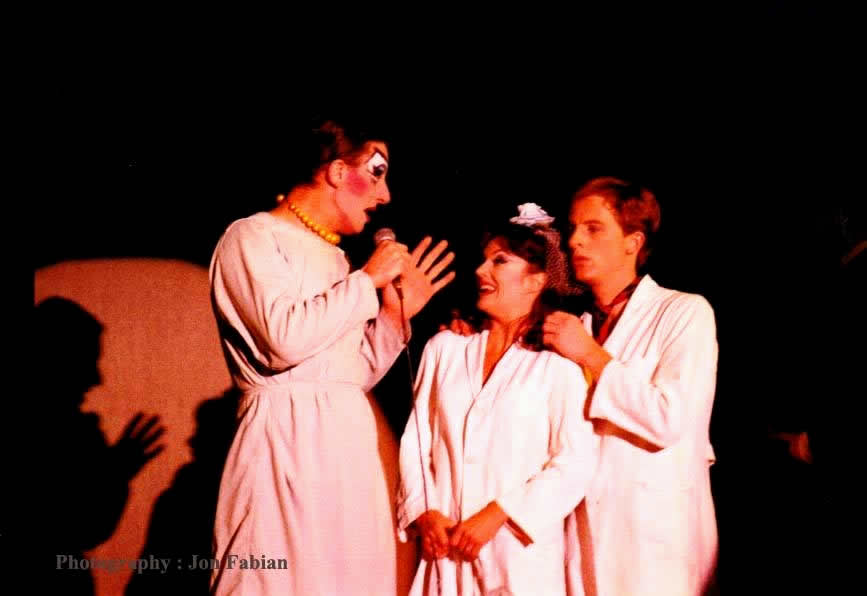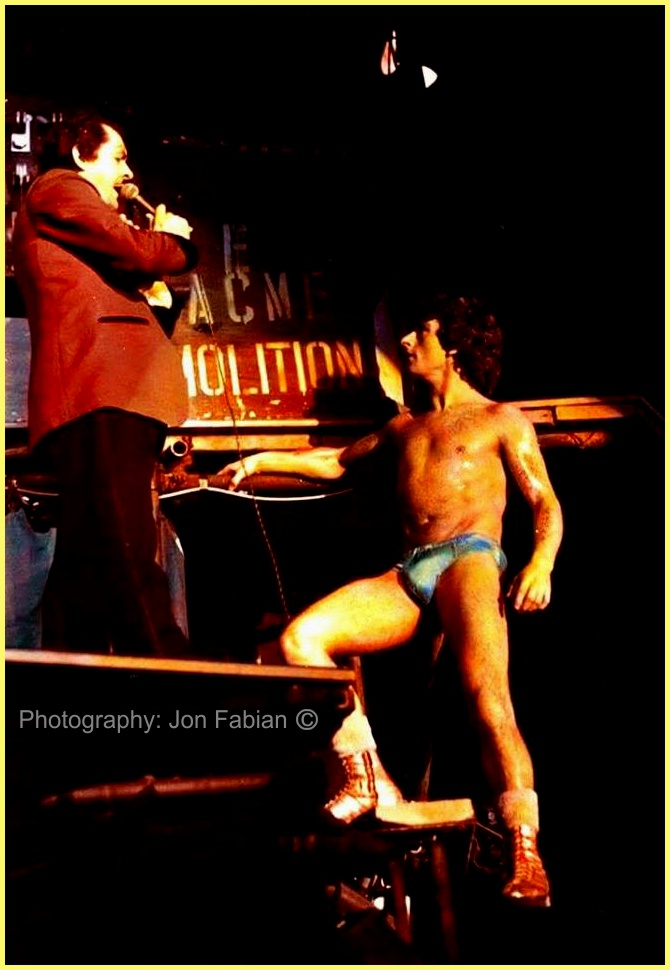 Rocky Horror you need peace of mind!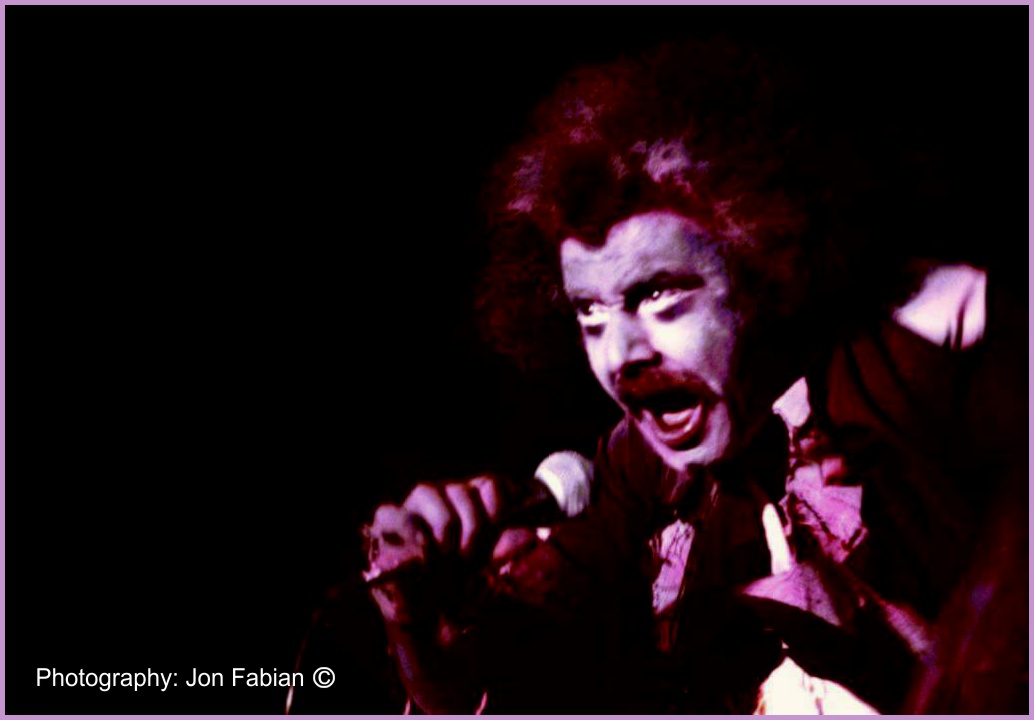 "From the Tracey Shannon collection"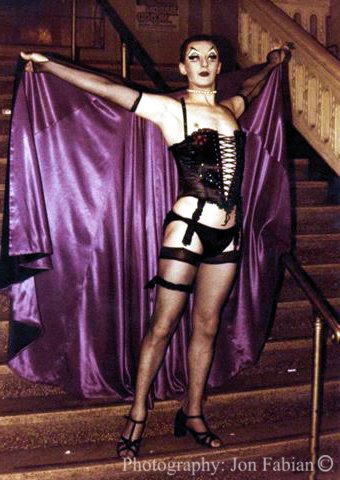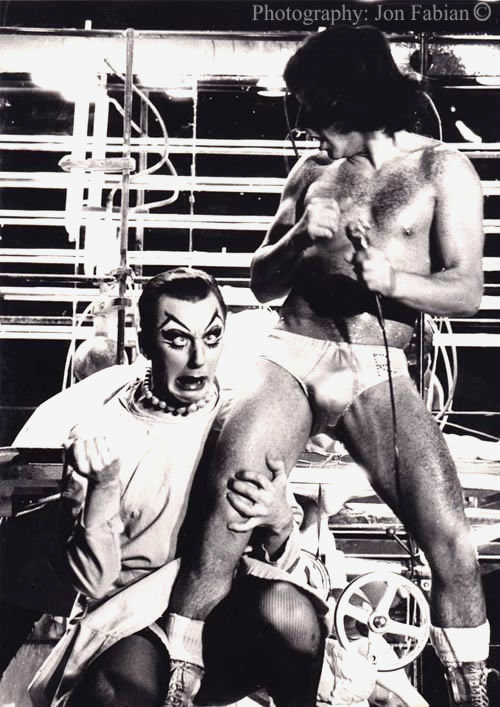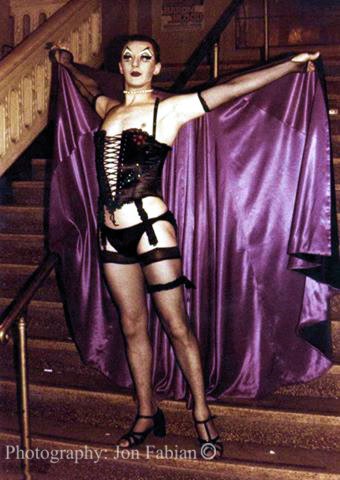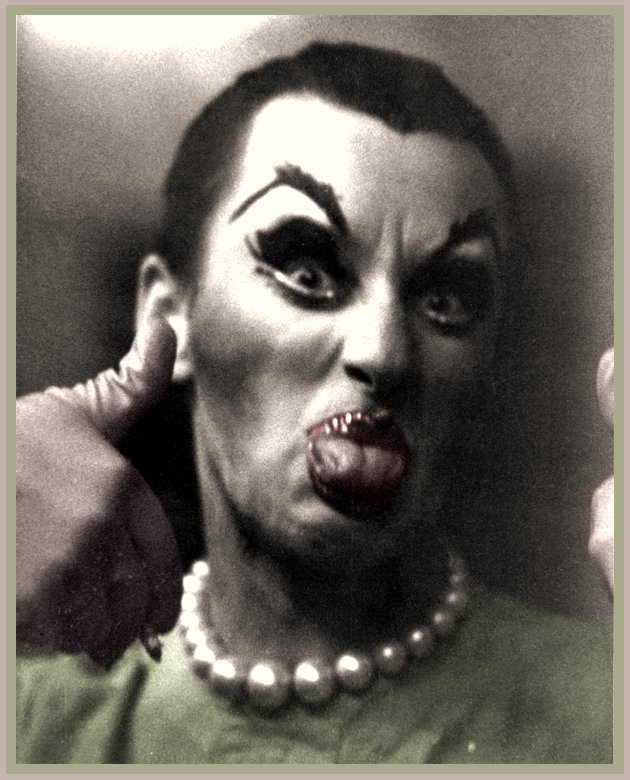 From the Estate Of The Late Max Phipps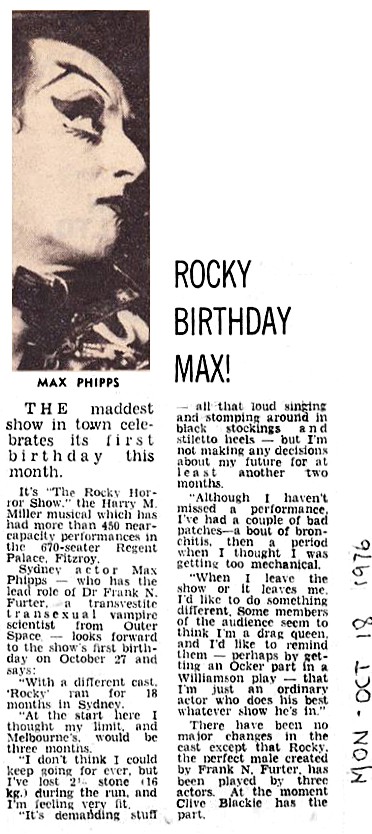 ........... ......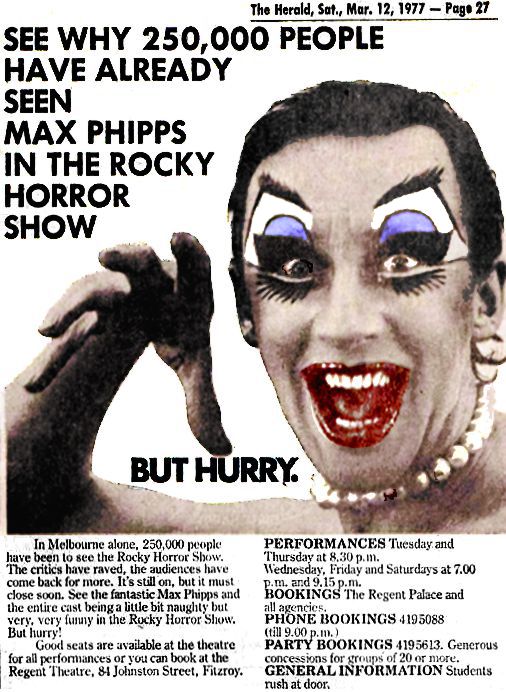 The Beej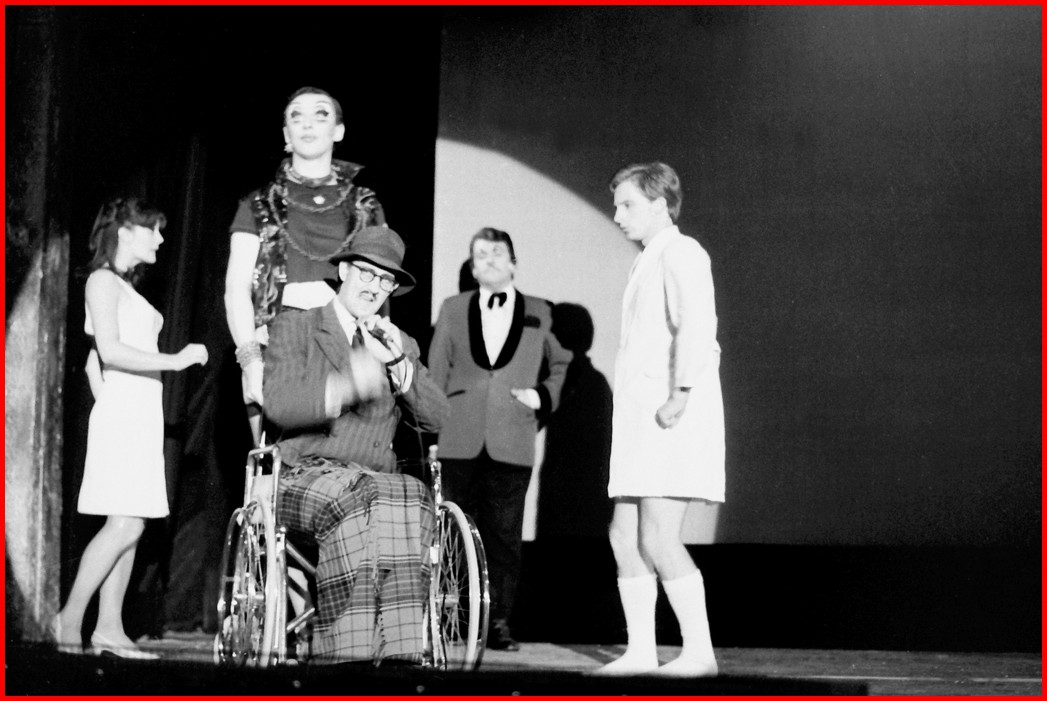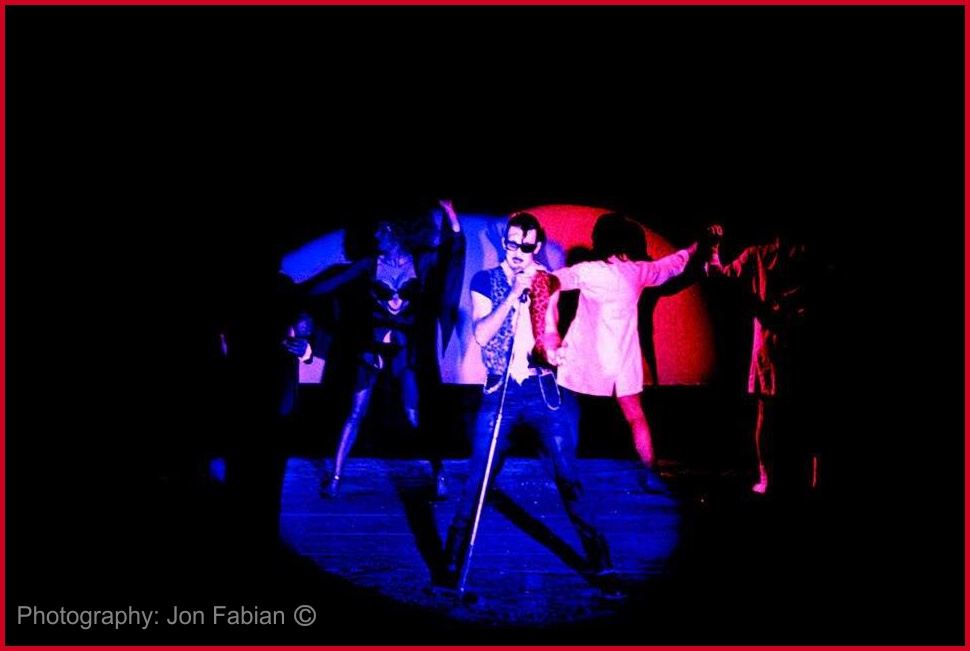 1987 Interview with Max Phipps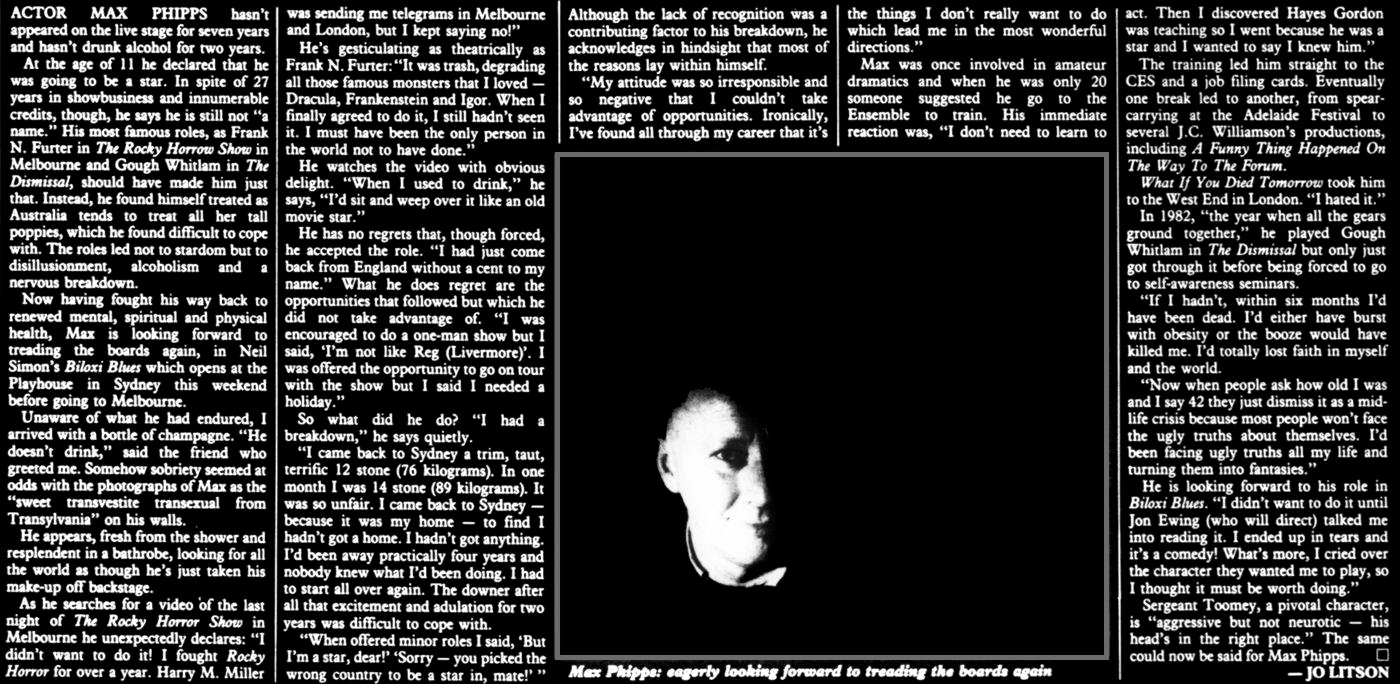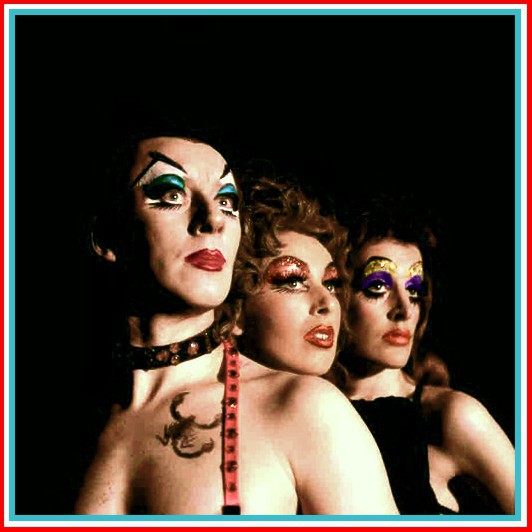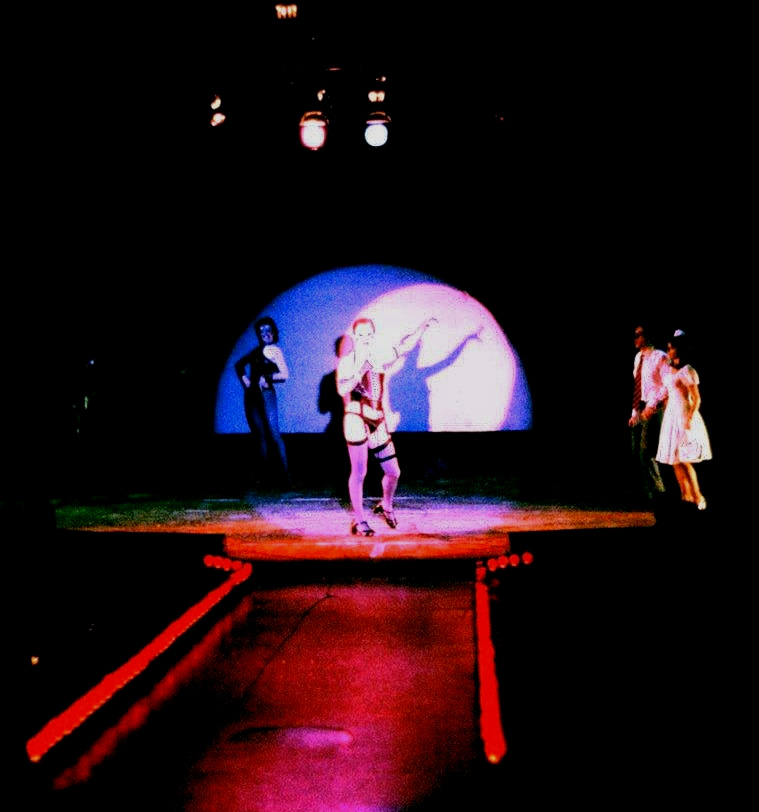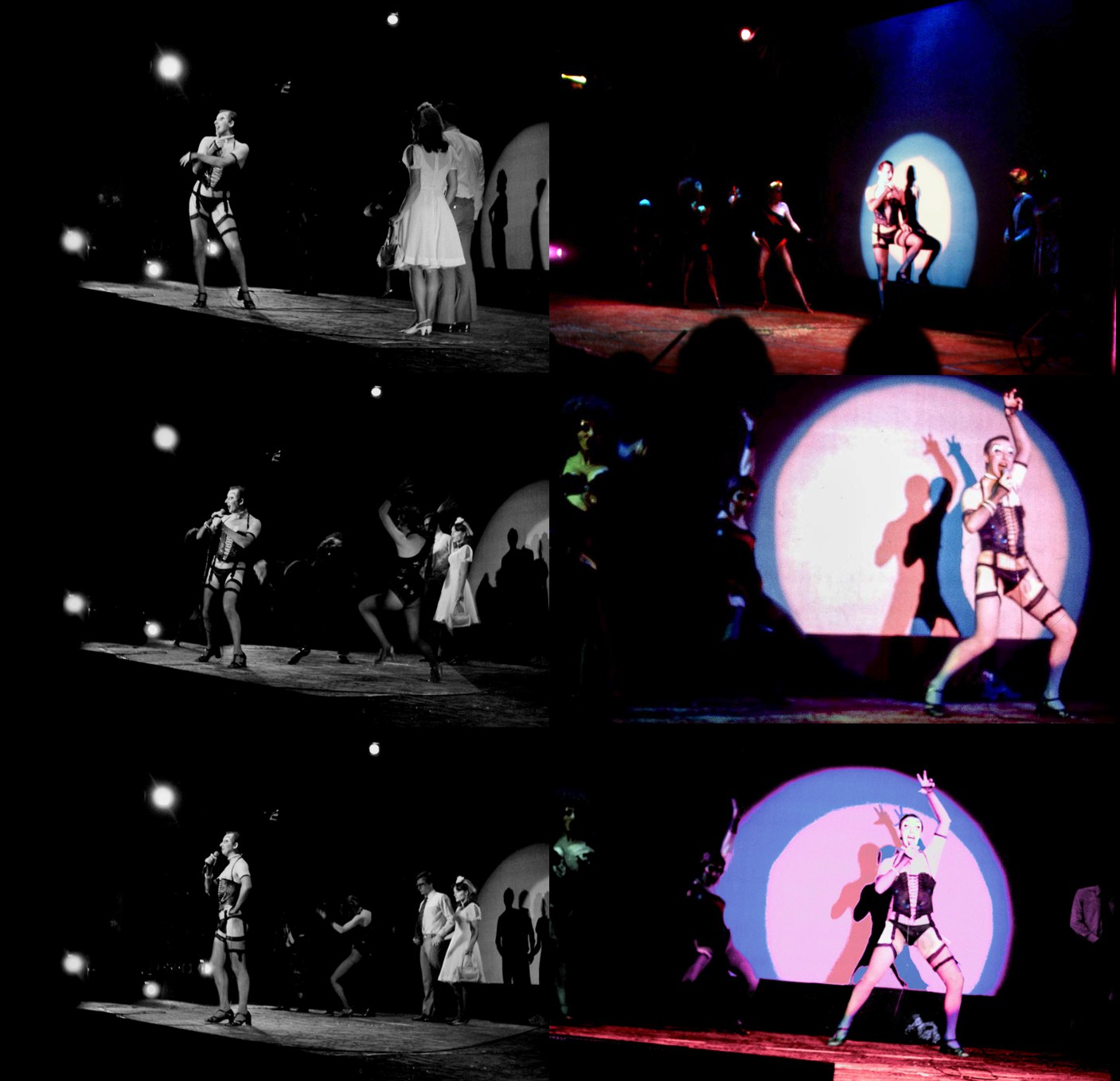 Photos by The Beej except for the top right, by Jon Fabian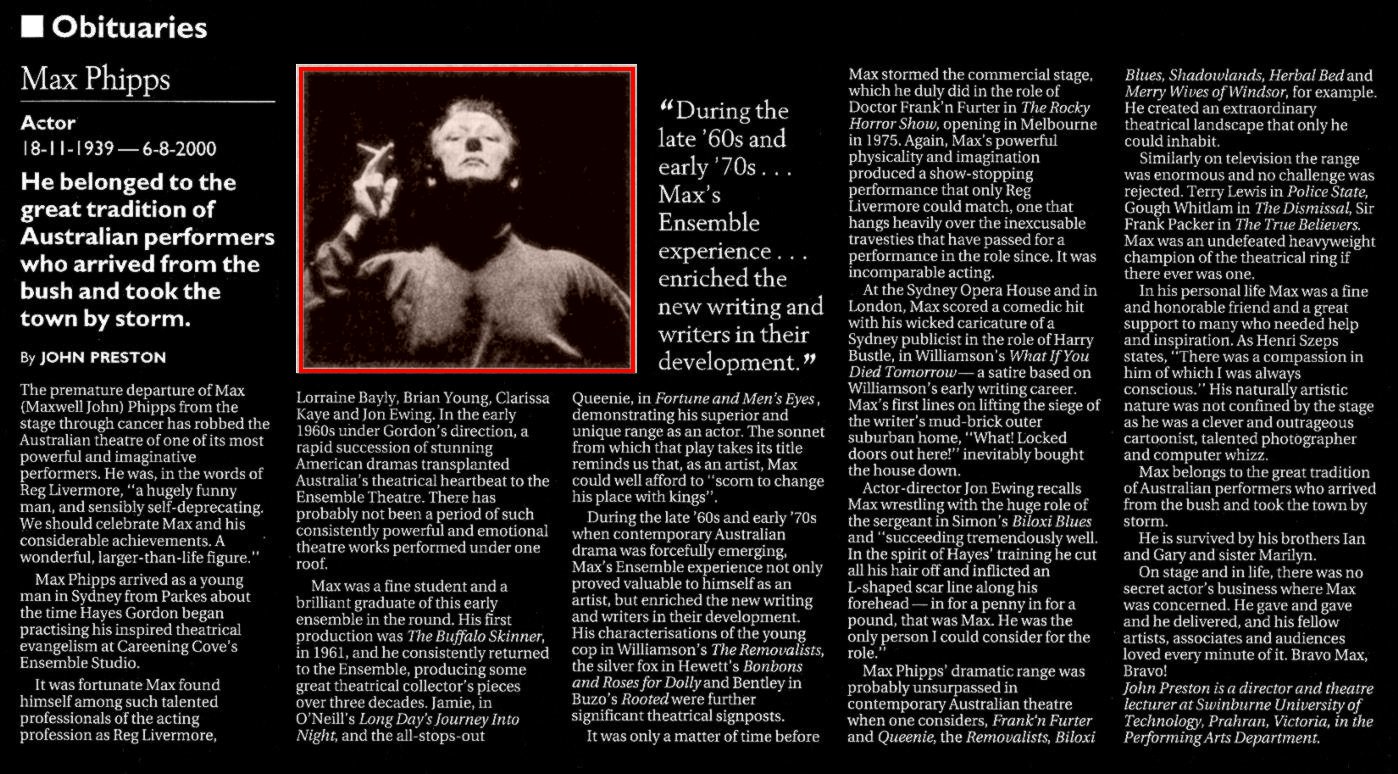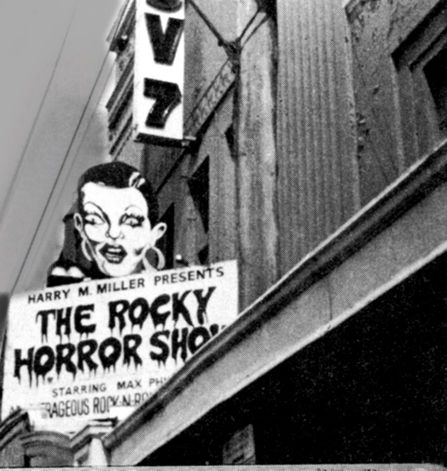 BIG Thank You to Jon Fabian, for his incredible photographic work and treasure trove of memorabilia!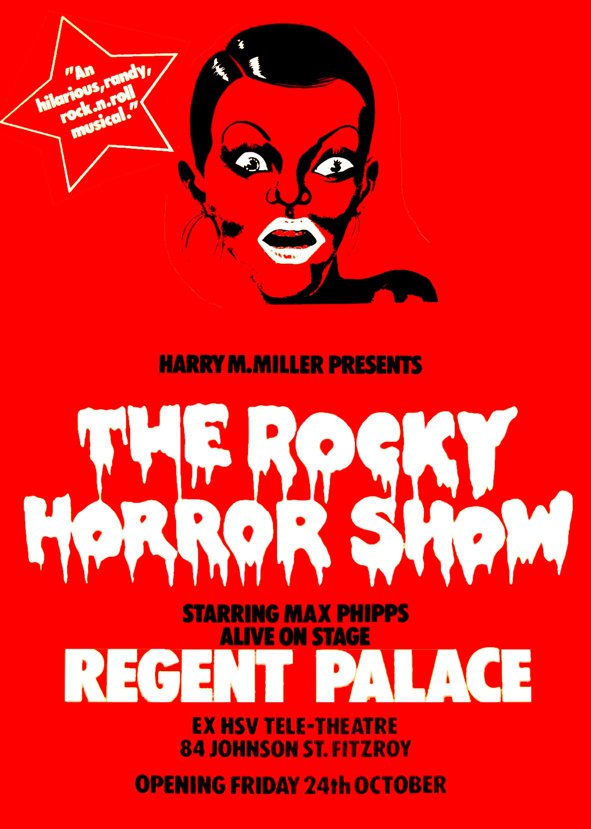 The original Melbourne poster didn't seem to excite the city and so a new poster was designed by Donald Fish, which increased ticket sales and won an award for design. It was printed in red and green and displayed checkerboard.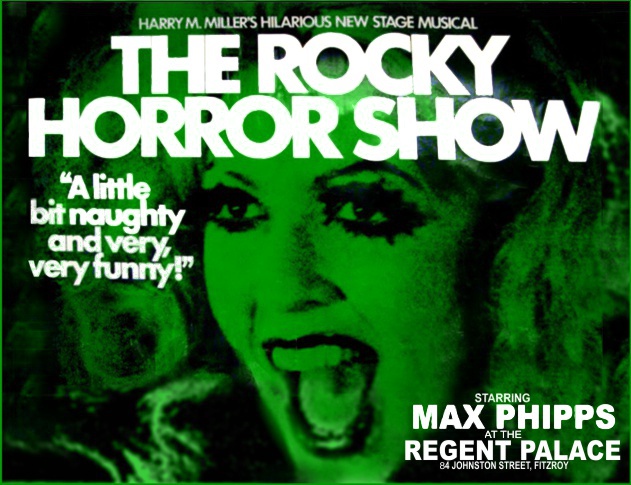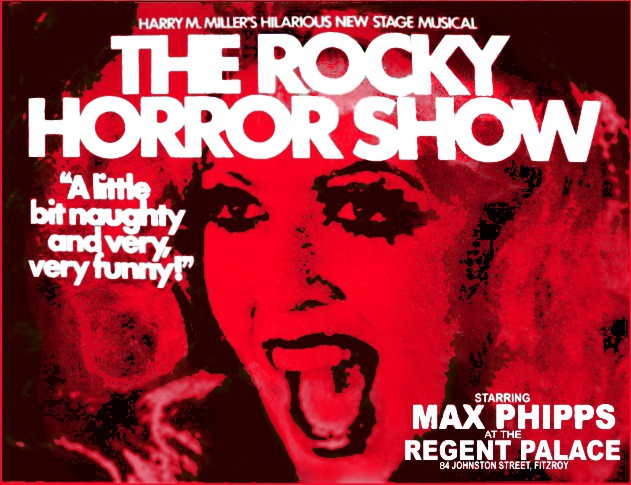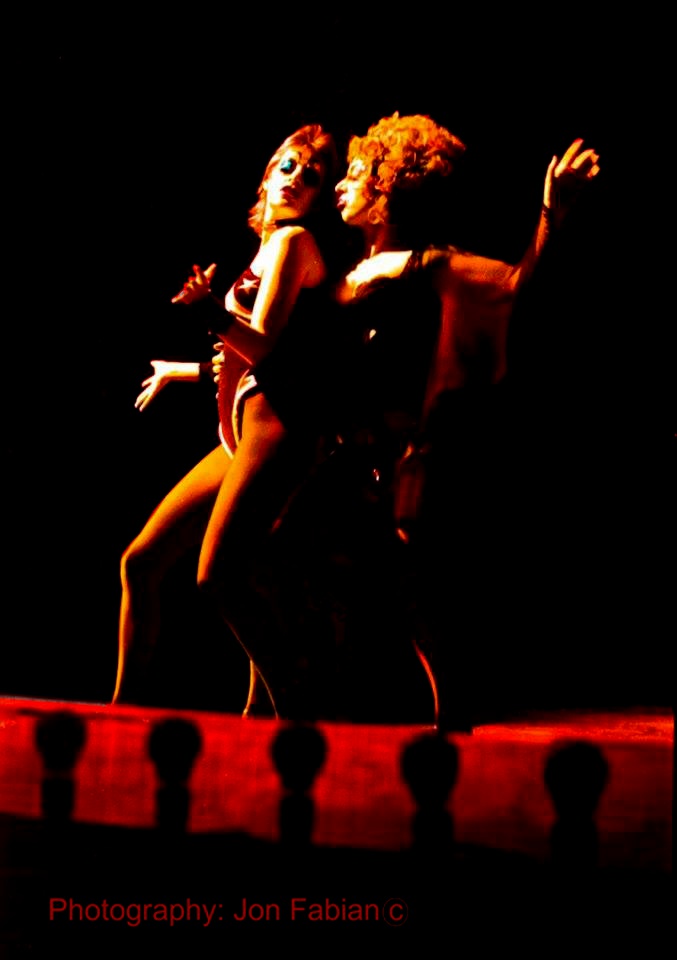 Joan Millar
Sal Sharah and Robyn Moase

The rainbow that appears at the end of the show, was a piece of the set, Brian Thomson, designed for HAiR in Melbourne:

Photo supplied by Jon Fabian
On the final night, when Riff Raff should say "And now Frank N Furter say goodbye to all of this...." Sal Sharah said, "And now Francis Norman Furter", the audience went wild.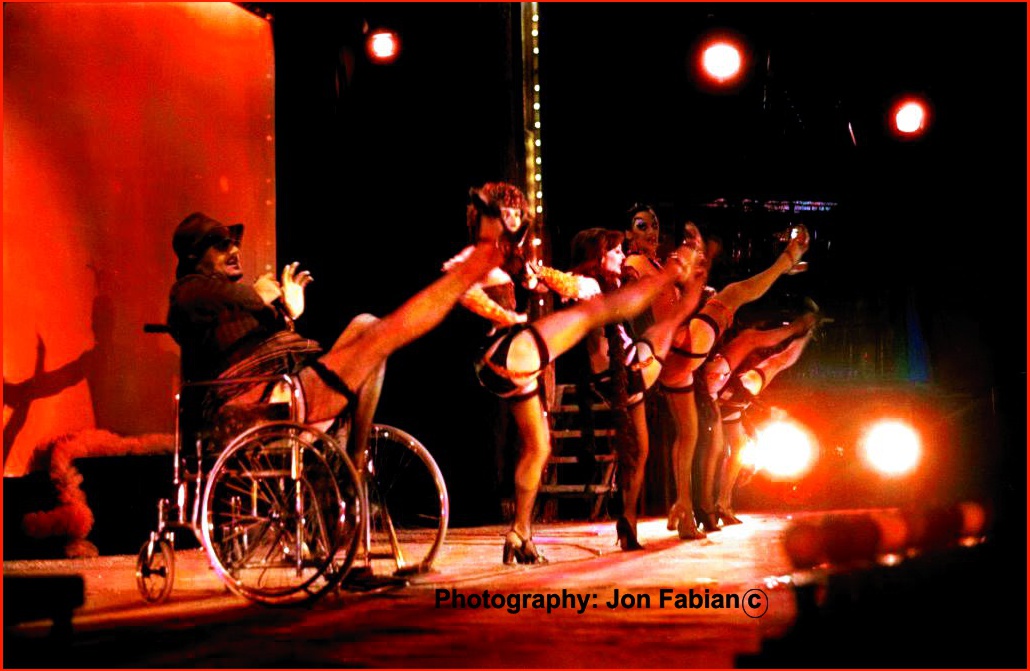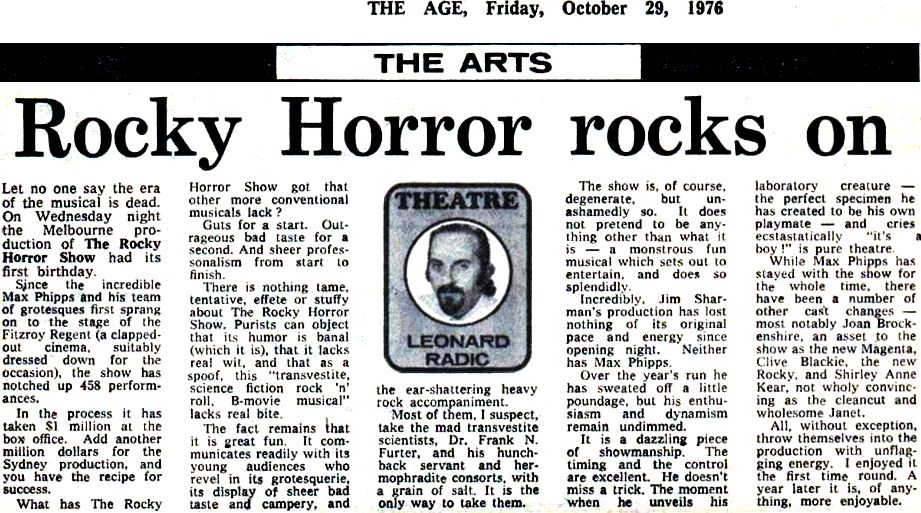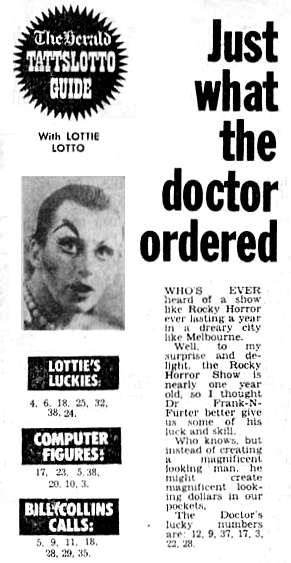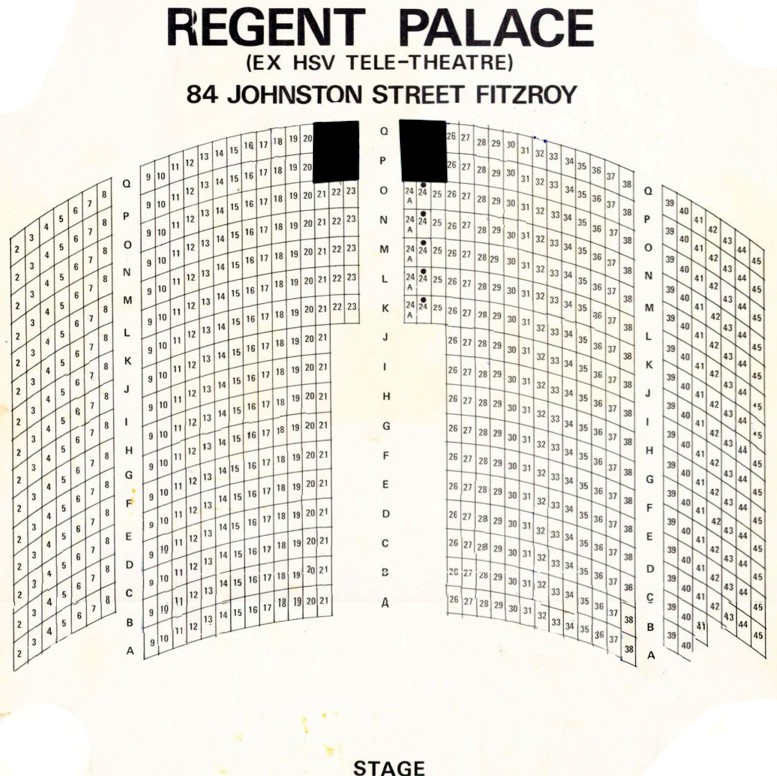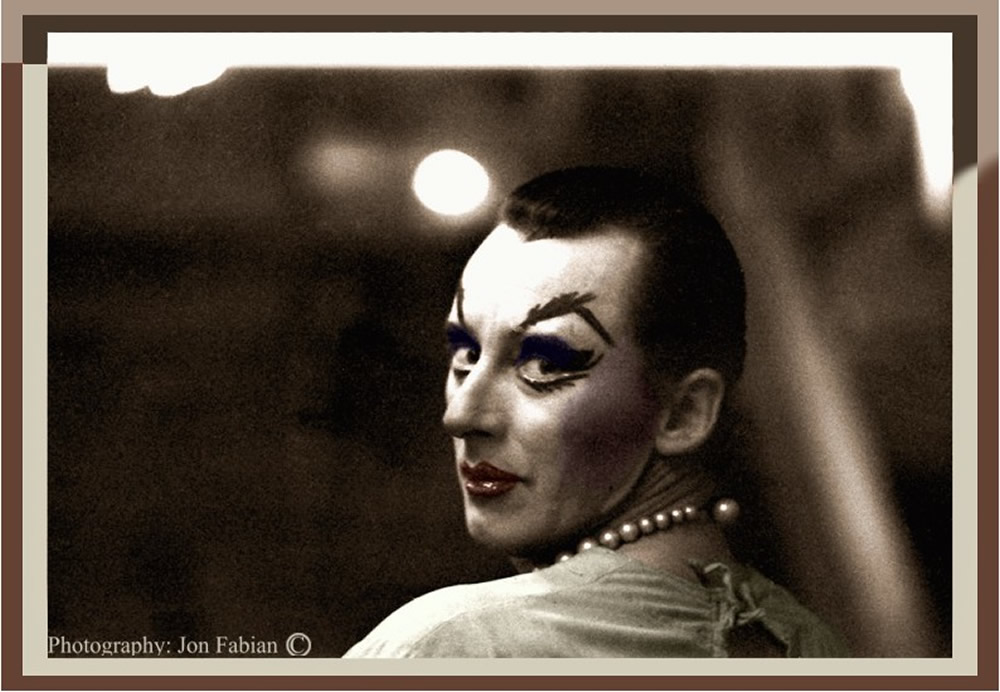 It's not easy having a good time!