The Original Australian Cast
LP 1974, Festival Records, L35231 (Australian release with gatefold sleeve) CD 1984, Festival Records, D35231
CAST:

MUSICIANS

Dr. Frank N. Furter:

Reg Livermore

Jamie McKinley: piano

The Usherette/Magenta:

Kate Fitzpatrick

Geoff Oakes: sax

The Narrator:

Arthur Dignam

Roy Ritchie: guitar and mellotron

Janet Weiss:

Jane Harders

Ken Firth: bass

Brad Majors:

John Paramor

Greg Henson: drums

Rocky Horror:

Graham Matters

RECORDING PRODUCED BY: John Morrison & Roy Ritchie

Eddie/Dr. Scott:

David Cameron

MUSICAL DIRECTION AND ARRANGEMENTS: Roy Ritchie
BRASS ARRANGEMENTS: Geoff Oakes

Magenta (for 'Touch-A, Touch-A, Touch Me'

RECORDING ENGINEER: Richard E. Lush
and 'Once In A While'):

Julie McGregor

Brad Majors (for 'Over At The Frankenstein Place'):

Piero Von Arnim

MIXING: Richard E. Lush and John Taylor

CHORUS:

Bob Hudson, Arthur Dignam, Julie McGregor, Maureen Elkner, Graham Matters, Sal Sharah, Piero Von Arnim

Song Listing
Science Fiction (3:26)
Wedding Song (2:20)
Over at the Frankenstein Place (3:07)
Sweet Transvestite (3:10)
Time Warp (3:15)
The Sword of Damocles (2:10)
Charles Atlas Song (2:03)
Whatever Happened to Saturday Night (2:10)
Touch A Touch Me (2:21)
Once in a While (2:57)
Eddie's Teddy (3:28)
Planet Schmanet Janet (1:14)
Floorshow (9:29)

It Was Great When It All Began
I'm Going Home

Super Heroes (2:36)

A single of Time Warp was released from the LP

TOTAL RUNNING TIME: 43:50

This recording is my favourite Rocky Horror cast recording and to me is the ultimate recording of the show. It has Reg Livermore at his turning point, from "legitmate" actor, to the performance creation he was to become. People unfamiliar with Livermore's interpretation of frank N Furter may find it unappealing, but for anyone who has an idea of concepts behind the original productions of the show, and for those who know Reg's later work, this is an absolute gem. It's an Australian masterpiece, with not only the original director and designer being Australian but with everyone involved being Australian.

Foreigners will complain that the American accents are terrible, but that's intentional, as Aussies often overplay American accents on home turf for a laugh. After 100 years of American produced entertainment, we do know a true American accent, but where's the fun in that? Also the production is a fantasy occuring in the mind of an usherette in an abandoned theatre, and the usherette in this case is Australian, so her fantasy will be tinged with her own background.

Jim Sharman and Brian Thomson were on home turf with this production and pushed the boundaries more than on other productions. Jane Harders from their Australian film, Shirley Thompson Versus the Aliens, 1972 (a big influence on the London show), was cast as Janet. Reg came from JCS also directed and designed by the same team. Kate Fitzpatrick, who later became one of Australia's most respected actresses shines as the dim witted aussie usherette and changes dramatically for the sultry if weird Magenta. Maureen Elkner of "Rak OFF Normie" fame, does a great "widgie" style Columbia and David Cameron's Eddie and Dr Scott are extreme. I've read a review that said he sings Dr Scott too slow then too fast, but I think it's perfect, it's cheap tricks by the experts.

This recording is fun and unpretentious, it has the freshness of the Original London Cast, but with far better sound and more developed characters. Unlike the Roxy Cast recording from Los Angeles (bigger arrangements and brass), released around the same time, the musical backing was kept simple like the London production and the singing was more character generated. The show was tacky (in a good way) and raunchy and the recording shows it.

The Original London Cast recording is the very first but was recorded early in the show's run and before it's momentum had been achieved. When Lou Adler took the show to America it took a turn that it didn't take here, Frank became more glamorous than he had been in England and the cast were respected singers, no longer the nasal sounds of Nell Campbell, and now the decidedly Texan sound of Meatloaf. A parody perfomed in the country it's set in, means greater scrutiny and less understanding of the distance the world is from the film world depicted and how a non-American audience views it all. It's easy to see why the film took audience participation to gain favour in the USA.

In Australia there was no foreknowledge of anything related to Rocky Horror when it opened in Sydney, and it opened to an audience who would have seen the familar sight of a run down cinema but this time for some reason a "left-over" usherette who wanted to tell an Australian audience about the wonders of Sci-fi films as seen in the dark of one of these old places. She wasn't the "Trixie" character of The Roxy show, she was the nameless usherette, wide-eyed and real.

When it comes to throwing on drag and being vulgar, it's intrisic to our culture, from footballers wearing a dress on The Footy Show to Les Girls and Dame Edna, The Gay Mardi Gras and Priscilla Queen of the Desert, to as far back as our convict roots, vulgarity and drag have always been right up there in popularity.

Most Australians, especially those in the Southern States would have heard this as their first Rocky Horror recording, as the other cast recordings were not popular at the time (Australian pressings of both London and The Roxy were made here, after the show's sucess). Tim Curry meant nothing to the Aussie audience, whereas Reg Livermore had turned a short song and dance routine as herod in Australia's JCS into a 9 minute showstopper that had reviewers raving, now he was commanding a stage for the best part of 90 minutes, turning a fairly 2 dimensional character, on paper, into a very scary individual who drew crowds wanting to be shocked and amazed by the constantly changing antics and pieces of information about Frank that Reg wove into the play. Not the pretty, almost Lady-like manner of Tim Curry's Frank, but a nasty bitch of a queen, obsessed with Bette Davis, who didn't give a toss about anyone but himself, a twisted individual whose life of decadence had led to an almost Baby Jane appearance. As Reg Livermore has said himself after finally seeing Tim Curry in the film, many years after it was released, "No one told me Frank could be beautiful, I went out of my way to make him as grotesque as possible". The kind of character an Australian audience loved, vulgar, and not ashamed of it, modern but with more than a hint of the British style vaudeville panto dames of Australia's theatre past. Livermore slowly added almost 30 minutes of extra dialogue as the audience craved more history and personality from the show they returned to night after night. Reg has a tenor voice unlike Tim Curry's baritone, and so his vocal interprtation is quite different. I remember at the time of the film's release, people from Sydney saying how dreadful they thought Tim Curry was, because to them Frank was Livermore. This recording is available on CD. http://www.possumrecords.com.au/reglivermore.cfm
The 1981 Original Australian Revival Cast
LP 1981, Festival Records, L20009 (red vinyl) CD 1981, Festival Records, D20009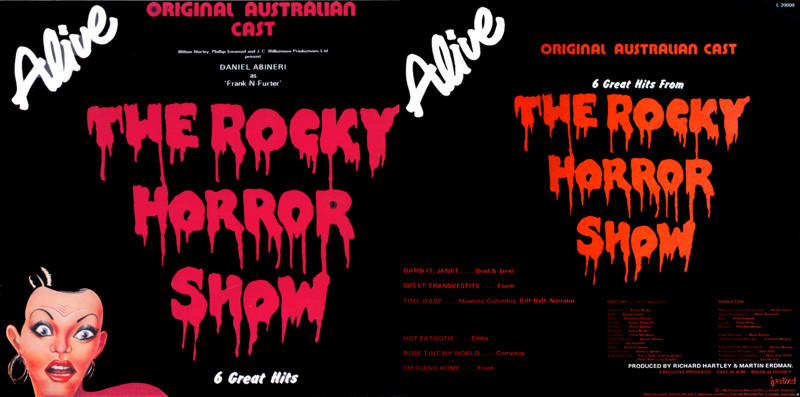 CAST:
MUSICIANS
Usherette/Magenta:

Kerry Myers

Phillip Scott: musical director/keyboards
Brad Majors:

David Frezza

Mark Simmons: tenor saxophone
Janet Weiss:

Antoinette Byron

Steve Elphick: bass
Narrator:

Stuart Wagstaff

Steve Brien: guitar
Riff-Raff:

Perry Bedden

Phil Henderson: drums
Columbia:

Gina Mendoza

Frank N. Furter:

Daniel Abineri

PRODUCED BY: Richard Hartley and Martin Erdman
Rocky Horror:

Jay Hackett

EXECUTIVE PRODUCER: Brian de Courcy
Eddie/Dr. Scott:

Steve J. Spears

RECORDED AT FESTIVAL STUDIOS, SYDNEY, AUSTRALIA
*backing vocals*:

Terry Peck, Katrina Ballan, Peter Rees, Lisa Shipley

song listing

Damn It, Janet (2:34)
Sweet Transvestite (3:07)
Time Warp (3:31)
Hot Patootie (1:48)
Rose Tint My World (6:51)
I'm Going Home (2:51)

TOTAL RUNNING TIME: 20:44

This is not really a cast recording, more of a promotional recording for a touring show. It contained only 6 songs on red vinyl and was presented in a clear plastic cover with a single sheet of printed carboard as a cover. Although the actual 1981 touring show was incredibly good, the recording is patchy. The Time Warp is great and Rose Tint my world is one of my favourite renditions, but I'm Going home doesn't do justice to the live performance Abineri always did, sounding here like a pale Tim Curry, which he was anything but, live on stage. Riff Raff is sung by Perry Bedden who played a Transylvanian and one of the on screen photographers in the film version. This production was directed by the choreographer from the film version, David Toguri (now deceased). Worth owning but ultimately a dissapointing souvenir of an amazing show. This recording is available on CD.
The New Rocky Horror Show Australian Cast
CD 1992, Columbia Records, 472855 2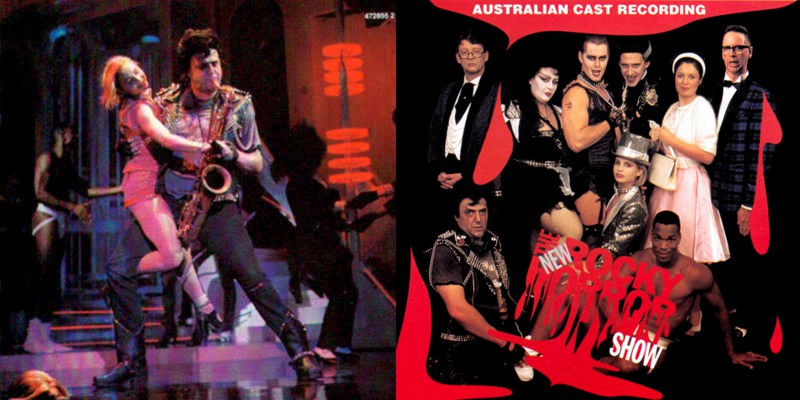 CAST

Musicians

Dr. Frank-N-Furter:

Craig McLachlan

Drums: Mark Meyer

Brad Majors:

Stephen Kearney

Bass: Joe Creighton

Riff-Raff:

Peter Rowsthorn

Guitars: Simon Patterson, Sam See, Craig McLachlan

Magenta and Usherette:

Linda Nagle

Keyboards: Cezary Skubiszewski, Garth Porter

Columbia:

Alyssa Jane Cook

Piano: Conrad Helfrich

Eddie and Dr. Scott:

Wilbur Wilde

Percussion: Alex Pertout

Rocky Horror:

Christopher Kirby

Saxophone: Wilbur Wilde
Additional Backing Vocals: Susie Ahern, David Wilson, James Uluave

Phantoms:

Michael Beckley, Andrea St. John, Michael Cormick, Steven Judkins, Kate Johnston, Michael Dalton

Mixed by Chris Corr & Garth Porter

Additional Backing Vocals: Susie Ahern, David Wilson, James Uluave

Recorded and mixed at Platinum Studios, Melbourne, Australia
Mastered by Leon Zervos at Studios 301, Sydney

Single released from the Album

All songs arranged by Garth Porter

song listing

Introduction (0:07)
Science Fiction - Double Feature (3:33)
Damn It, Janet (2:35)
Over at the Frankenstein Place (3:13)
The Time Warp (4:50)
Sweet Transvestite (3:38)
I Can Make You A Man (2:55)
Hot Patootie - Bless My Soul (2:39)
Touch-A-Touch-A-Touch-A-Touch-Me (3:12)
Once in a While (3:32)
Eddie's Teddy (2:53)
Wise Up Janet Weiss (3:03)
Rose Tint My World (3:59)
Fay Wray - Don't Dream It, Be It (3:20)
I'm Going Home (4:06)
Super Heroes (4:12)
The New Time Warp ("Special Bonus Track") (4:46)

This is only a cast recording in the respect that the performers recorded their voices, however it's not the arrangements that were used in the show, those on stage were basically the original arrangements. The singing is fine, the arrangements by Garth Porter (keyboard player with Sherbet) are dated, with the songs fading in and out accompanied by 80's Europop backing. The tour ran on and off for the next 7 years. This recording is no longer available on CD.