It was strange the way it happened
Premiere 19th April 1974 New Arts Cinema Sydney
Closed 4th October 1975
Book, Music & Lyrics by Richard O'Brien

Original Music and Arrangements by Richard Hartley

Exec. Producer -

Frederick J. Gibson

Musical Director -

Roy Ritchie

Lighting -

John Saltzer (courtesy NIDA)

Sound - John Morrison Sound Australia

Dr. Frank-N-Furter

:

Reg Livermore

(l

( Trevor Kent/Andrew Sharp and Max Phipps)

Janet Weiss

:

Jane Harders

(later by Paula Maxwell)

Brad Majors

:

John Paramor

(later by Gregory Apps and Trevor Kent)

Columbia

:

Maureen Elkner

(later by Denni Gordon/Gilian Jones/Jackie Rees)

Magenta and Usherette

:

Kate Fitzpatrick

(Julie McGregor/Robyn Moase)

)

Eddie and Dr. Scott

:

David Cameron / Terry Bader

Rocky Horror

:

Graham Matters

(later by Robert Forza)

The Narrator

:

Arthur Dignam

(later by Michael Rolfe/Tommy Dysart)
Chorus:
The Band:
Guitar, Mellotron:
Roy Ritchie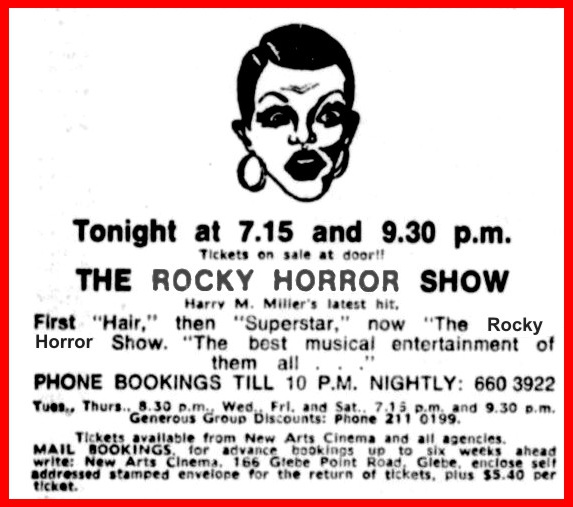 The best article can be found here:
http://www.reglivermore.com/musicals_rocky.html
I would imagine from everything I have read, people I have spoken too and my own experience that The Original Australian Cast of The Rocky Horror Show was an unforgettable experience on par with the Original London Production if somewhat different in interpretation. With the original director and designer being Australians, the sensibilities could be explored further on home turf. The Australian love of the grotesque and bizzare came to the fore. Where Lou Adler had the show hyped up for The Roxy (a nightclub) and the music re-orchestrated on the recording, to make it more palatable to the American audience, in Australia they could do as they pleased. A rotting cinema, as the venue gave the story a setting that reflected the loss of the past and innocence. The music remained as it was originally, the cast were encouraged to put their own twist on the characters and so a creation was born rather than a carbon copy, in doing so the same freshness that had made the London production such a hit, struck again in Australia. The Theatre interior was covered with dark canvas with ACME Demolition Co stencilled on it, scaffolding covered the side walls and went right onto the stage where it became the set.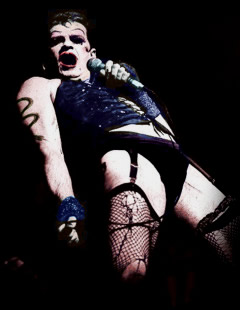 The Usherette played by Kate Fitzpatrick and later Julie McGregor (Hey Dad), was much like the usherettes we had all seen as kids with their torches and tray of lollies, real, like the run down cinema the show was playing in. Wide eyed Aussie girls who, like the rest of us, are far removed from Hollywood or Hammer but have all lived it through the screen. Graham Matters was a good looking Rocky with an Australian surfie appearance who sang well. Arthur Dignam, already a well respected actor, played a creepy, solemn, deeply spoken Narrator.
The making of

the rocky horror show

Or how Dick came to create a Monster


A lot of people got to play out their fantasies in the creation of The Rocky Horror Show, but the dean of them all is unquestionably its author, Richard O'Brien. 31, balding and spiderlike, Richard is a sweet-voiced New Zealander who landed in London several years back and quite rightly became an extra in some Carry On movies. The thing Richard misses most in life is fun. He truly believes every­thing should be fun, and forever seems to be listening to a trannie inaudible to others. Remembering the excitement of greasy Johnny Devlin in New Zealand, he liked the idea of theatre but "wanted the excitement of a rock and roll show with other bits thrown in".
The other bits are perhaps the key to Richard. Bits such as garters, corsets, bisexuality, glitter rock, and — above all — sci fi. So he wrote his sparse little Rocky Horror script and crammed it full of all the bits that had been lurking in him for years. Perhaps the most striking feature to Richard is an almost ruthless naivete, something which comes across in the excellent lyrics and melodies he wrote for Rocky.
Richard had appeared in the London productions of Hair and Superstar. With his own Rocky Horror Show, he brings a trilogy full circle, for tonight's little debacle certainly has relations to those two earlier shows.
And who better to direct the opus but Jim Sharman, who had delved into 50's sci-fi rock via his Aussie celluloid dream, Shirley Thomson Versus The Alien. Sharman had once screened his film to a lady mogul in New York; she had described it as "the ugliest thing I've ever seen", then advised little Jim to catch Shirley Bassey at the Royal Box "for real raw emotion".
Sharman had worked with O'Brien on the London Superstar, and following that had cast the actor in his Royal Court production of Sam Shepherd's sci-fi squeal The Unseen Hand. The pair went straight from the latter into Rocky rehearsals, gathering a quite amazing team in the Court's tiny Theatre Upstairs. Designer Brian Thomson — who could well have been Shirley's brother— was just one of them.
It was a thrilling opening night, the tickets fetching as much as $1.30 Australian (we base this figure on the sad decline of sterling). Vincent Price climbed the stairs with the wonderful Coral Brown on his arm, and London's newest and handsomest lovebirds guffawed as loudly as two Tallulah's. Everyone loved Rocky, and Richard O'Brien (a devotee of Broderick Crawford) was thrilled that his souped-up definition of B movies had hit home.
What's more, Richard got to act in it. He stayed with the show when it moved up the Kings Road to the Classic Cinema, and when that flea-pit was demolished, he trailed it across the road into the refurbished Essoldo Cinema, where the Rocky actors are bumping and grinding to this very day.
In March of last year, Jim Sharman mounted the premiere American production at Hollywood's Roxy Theatre (actually a rock climb) and the show was no turkey, but rather a smash sleeper which did boffo biz. Richard O'Brien arrived for that opening night, accompanied by his late Irish-born and Oriental wife Kimi, and together they ogled Cher's new bracelet, Annette Funicello's added poundage and Bianca's husband Mick. Richard's opening night gift to the cast was a set of bondage photographs, and he hardly seemed to notice that Broderick Crawford did not attend.
In London, Rocky won the prized Evening Standard award as best new musical show. O'Brien and Sharman have already completed a film version. Quite honestly, they did not expect all of this to happen, something you should understand perfectly after seeing the show.

Photos supplied by Reg Livermore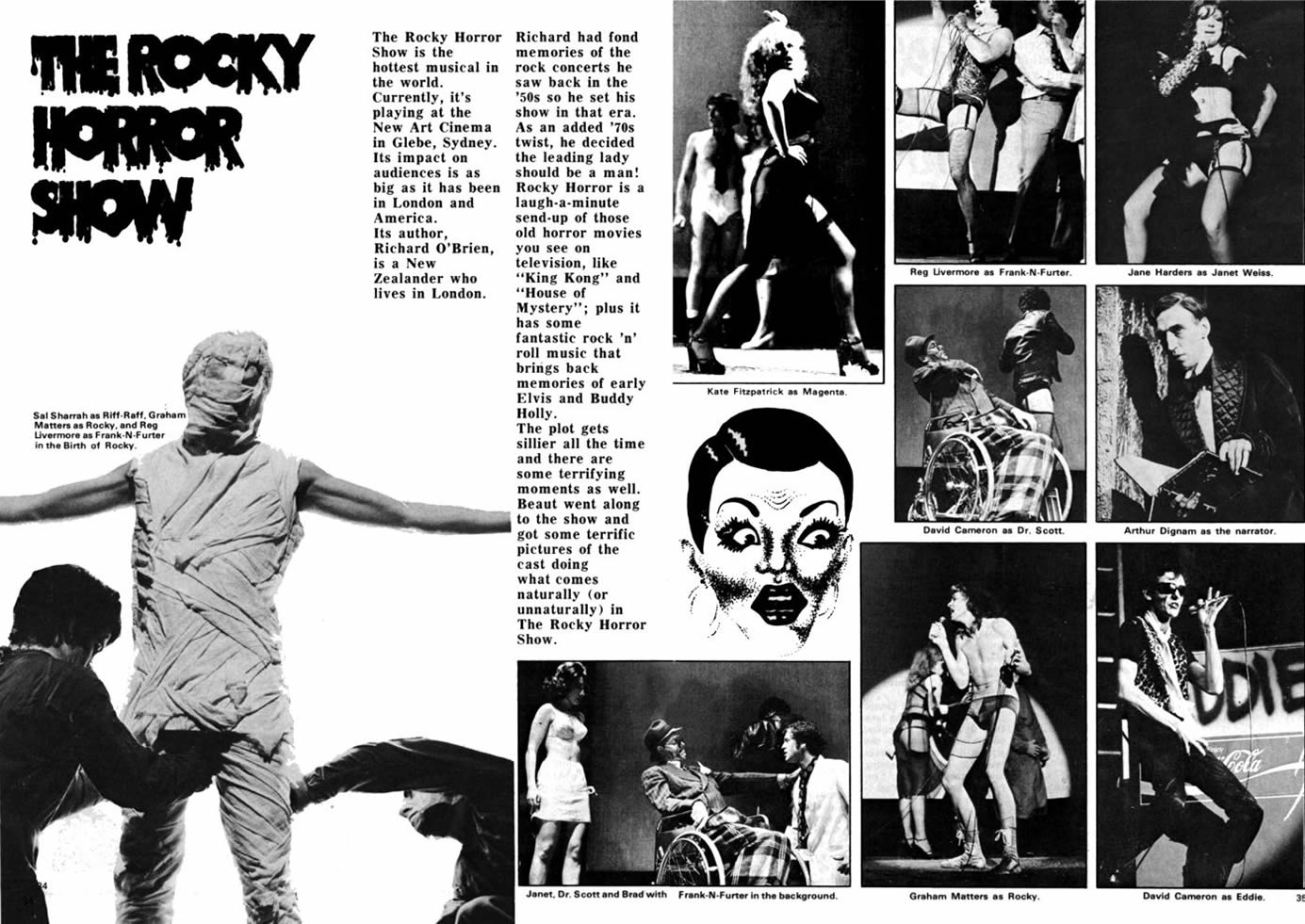 Article above supplied by Ruth Fink-Winter / Crazed Imaginations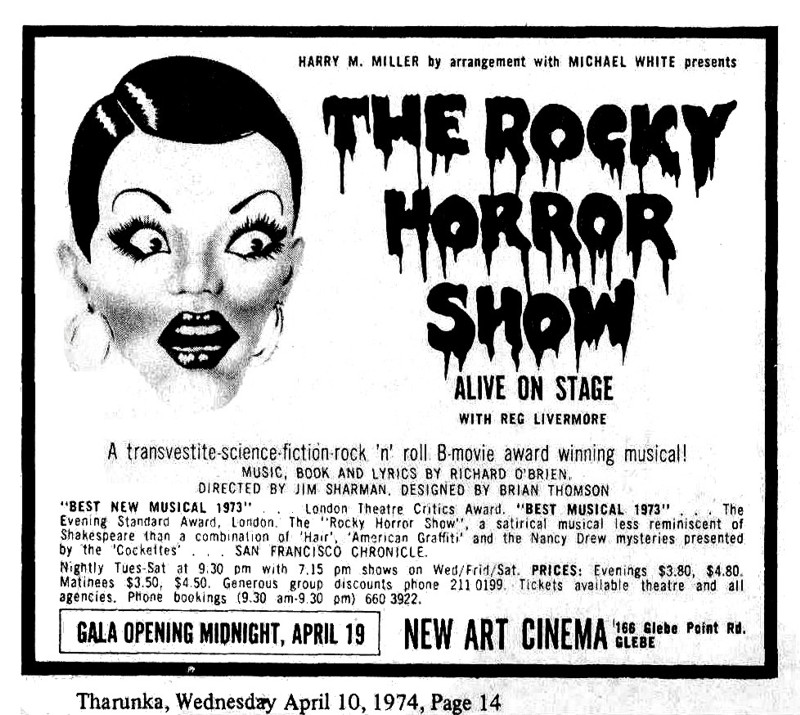 Back in 1974 Reg Livermore made Frank his own, a nasty grotesquery with a penchant for Bette Davis (with an appearance somewhere between Baby Jane Hudson and Sydney's old vintage Amusment Park entrance, the Luna Park face). This was an extreme Frank, one who terrorised the audience night after night, leaping into the crowd and harrassing hecklers physically by shaking them into submission. The relationship between Riff Raff and Frank was explored further with a waltz and a rose. This Frank was a real person with a history and Reg didn't mind telling you this history, sometimes launching into spontaneous monologues found nowhere in Richard O'Briens words. The character was adored and didn't really die with the end of his run, Reg morphed Frank into many more characters based on the kind of self delusions the Frank'n'Furter character had, so deliciously, entertained us with for 8 months. Reg left the cast to pursue a new avenue of performance for him, the one man show! Drawing on his experiences and love of Frank N Furter, Reg devised a bizarre entertainment in which he spent much of the time in fishnets again. His first show was The Betty Blokk-Buster Follies, a circus filled with bizarre characters and a phenomenal success followed by a string of shows including Wonder Woman, Son of Betty, Sacred Cow and Firing Squad, these were ground breaking during the 1970s and propelled him to the forefront of Australian popular theatre. He received an AO in 1996, and an Australian Artists Creative Fellowship enabled him to write his biography Chapters and Chances published by Hardie Grant Books in 2004, I advise anyone with any interest in Reg's work to buy this book, it is a treasure trove. In 2005/06 he starred as Max Bialystock in the new Mel Brooks Musical, The Producers. To read more about Reg Livermore, his interpretation of Frank and subsequent incarnations, visit his site at: www.reglivermore.com Reg revived the role for a short run in Brisbane in 1984, but 10 years later and under different direction, it was a faded rendition. 1974 was the year for Rocky Horror in Australia, many incarnations have come since then, but none have held a candle to the outrageous period in Sydney when Reg first donned his corsetry and shocked Australia.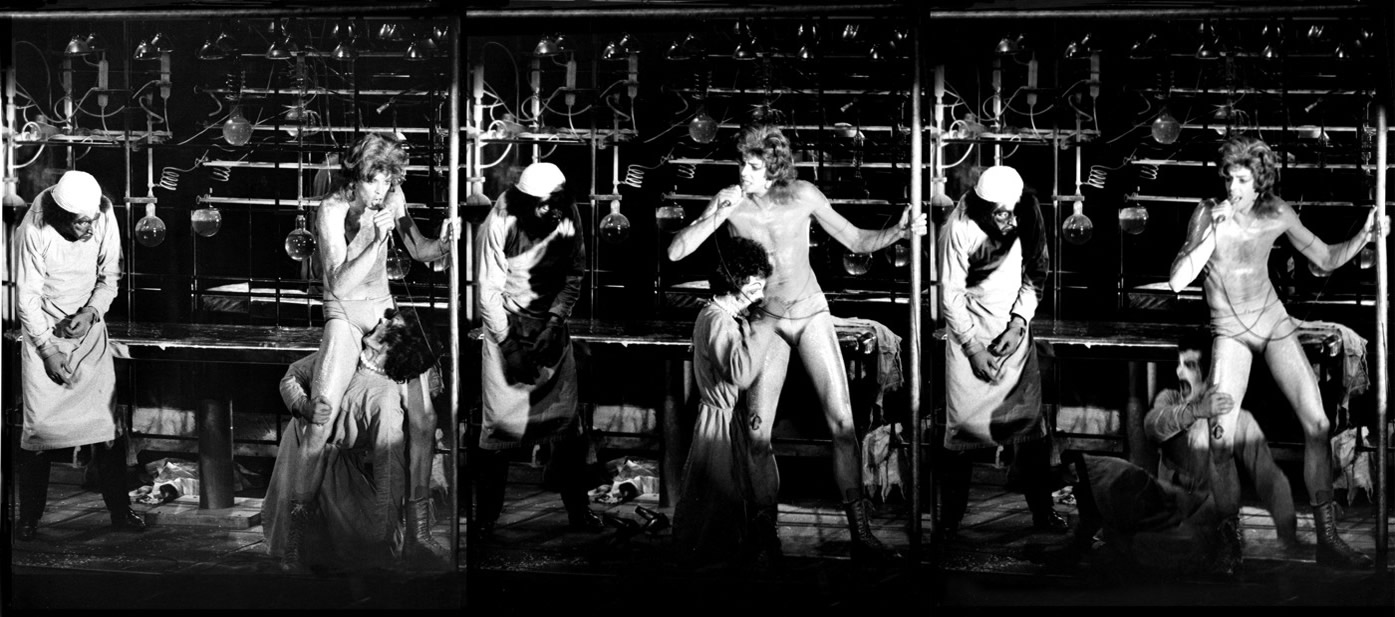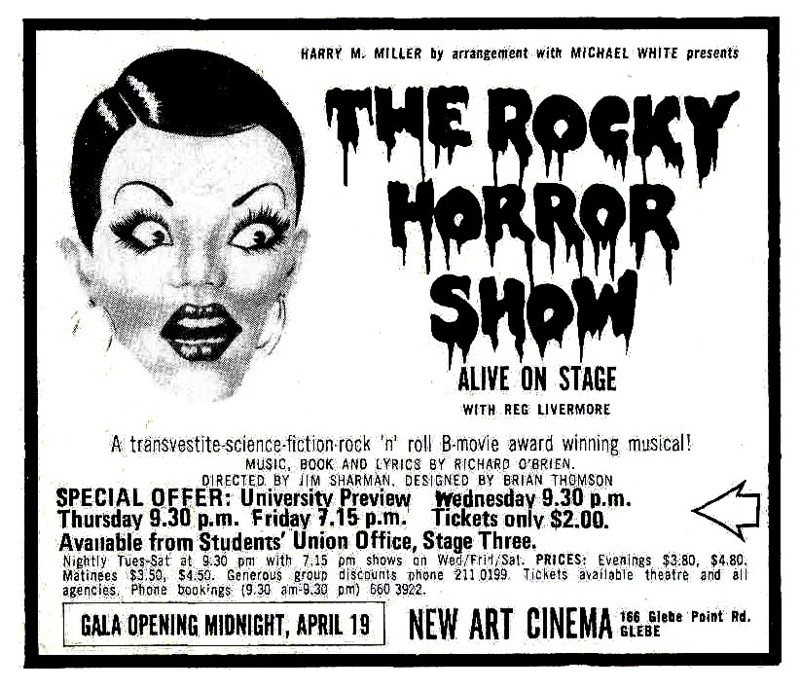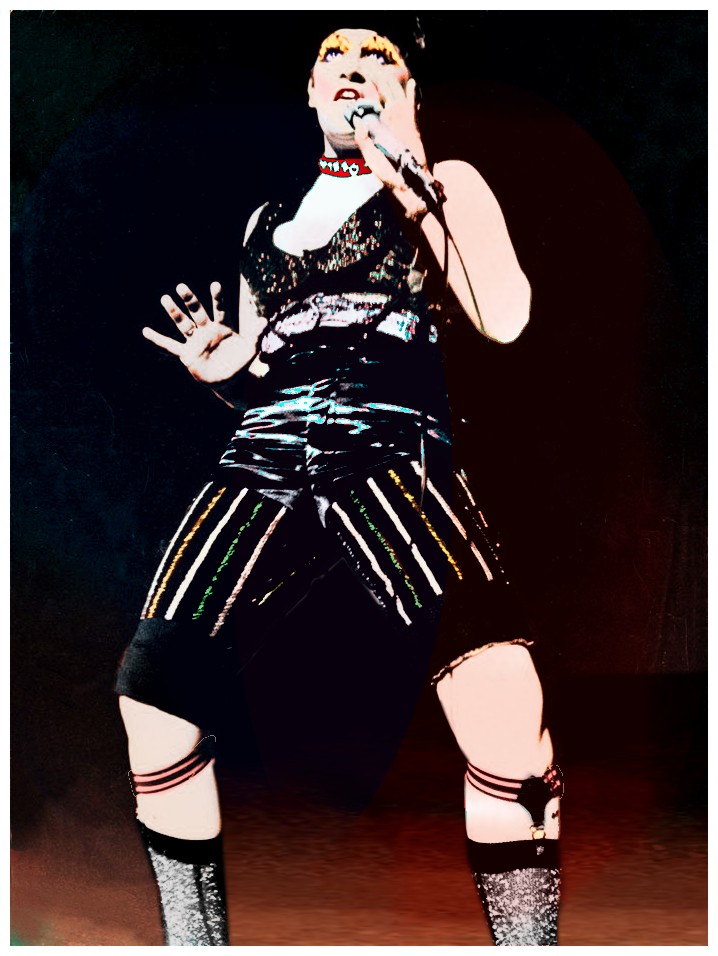 Maureen Elkner (Photo supplied by Jon Fabian)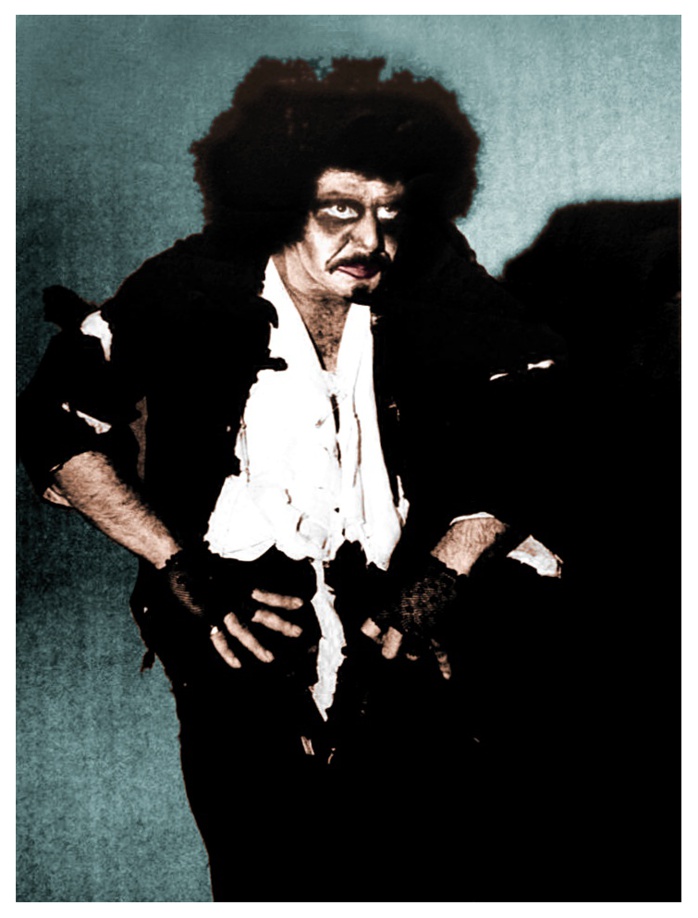 Sal Sharah : Photo by Greg Weight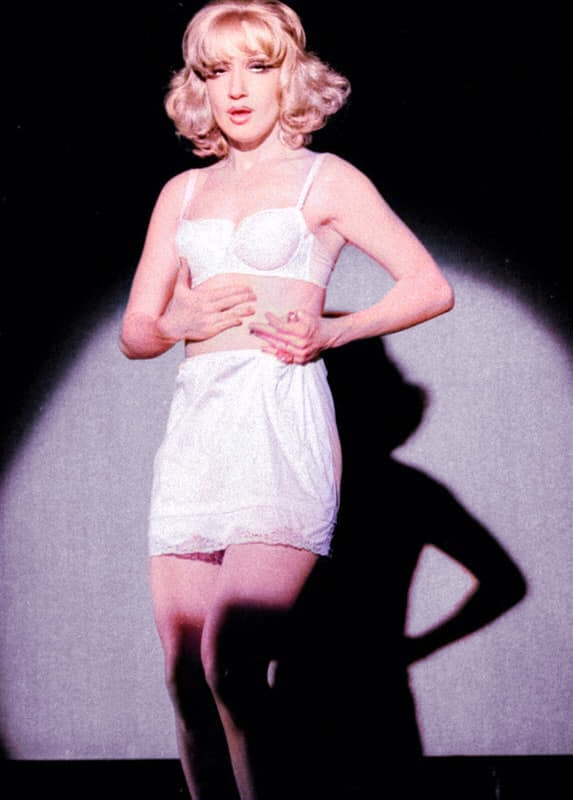 Jane Harders, photographed by Philip Morris
Kate Fitzpatrick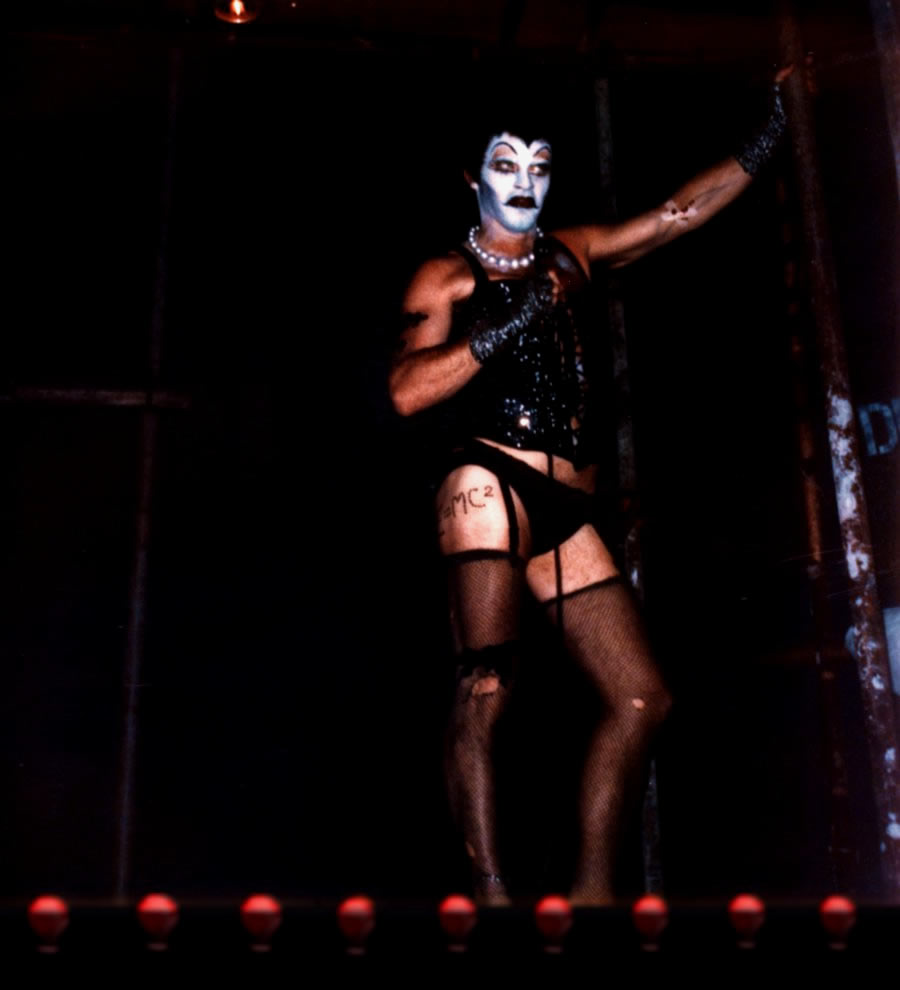 Photo supplied by Reg Livermore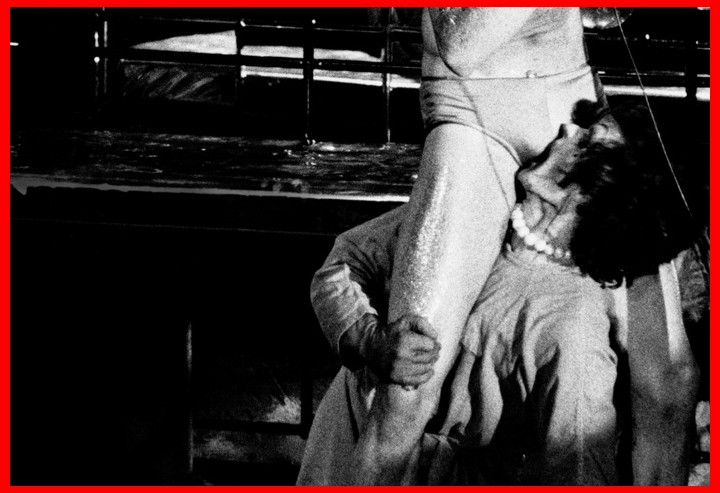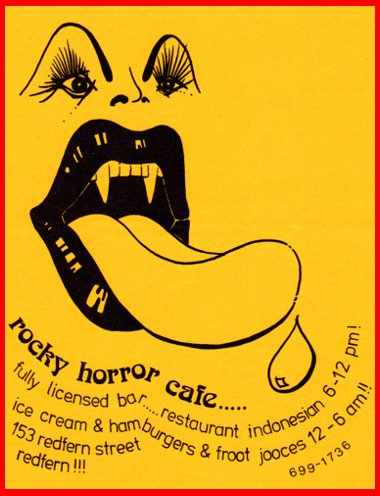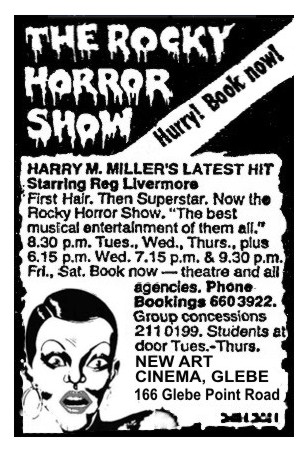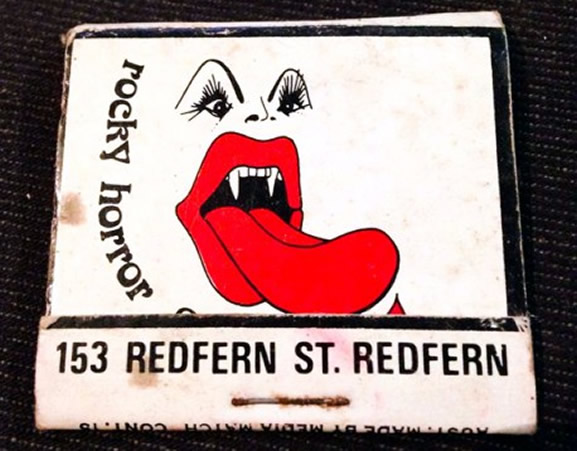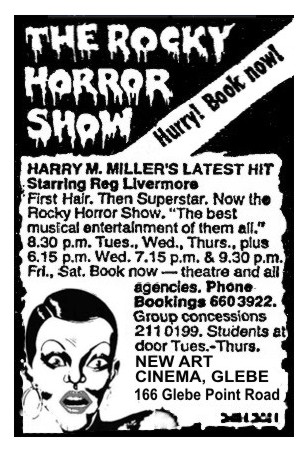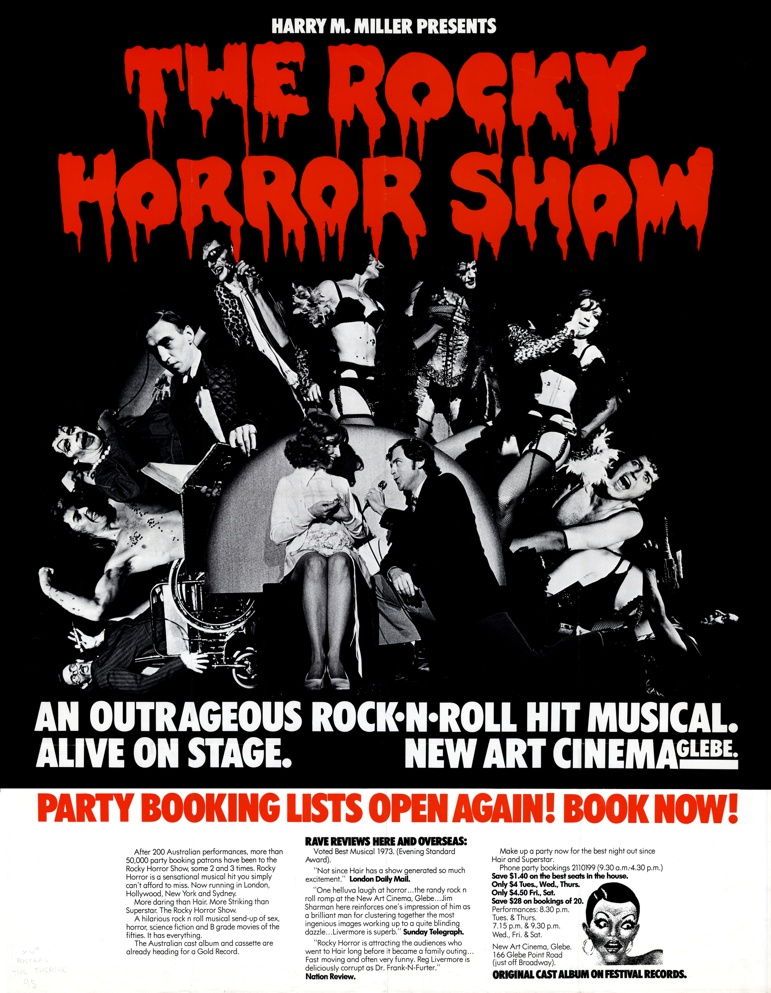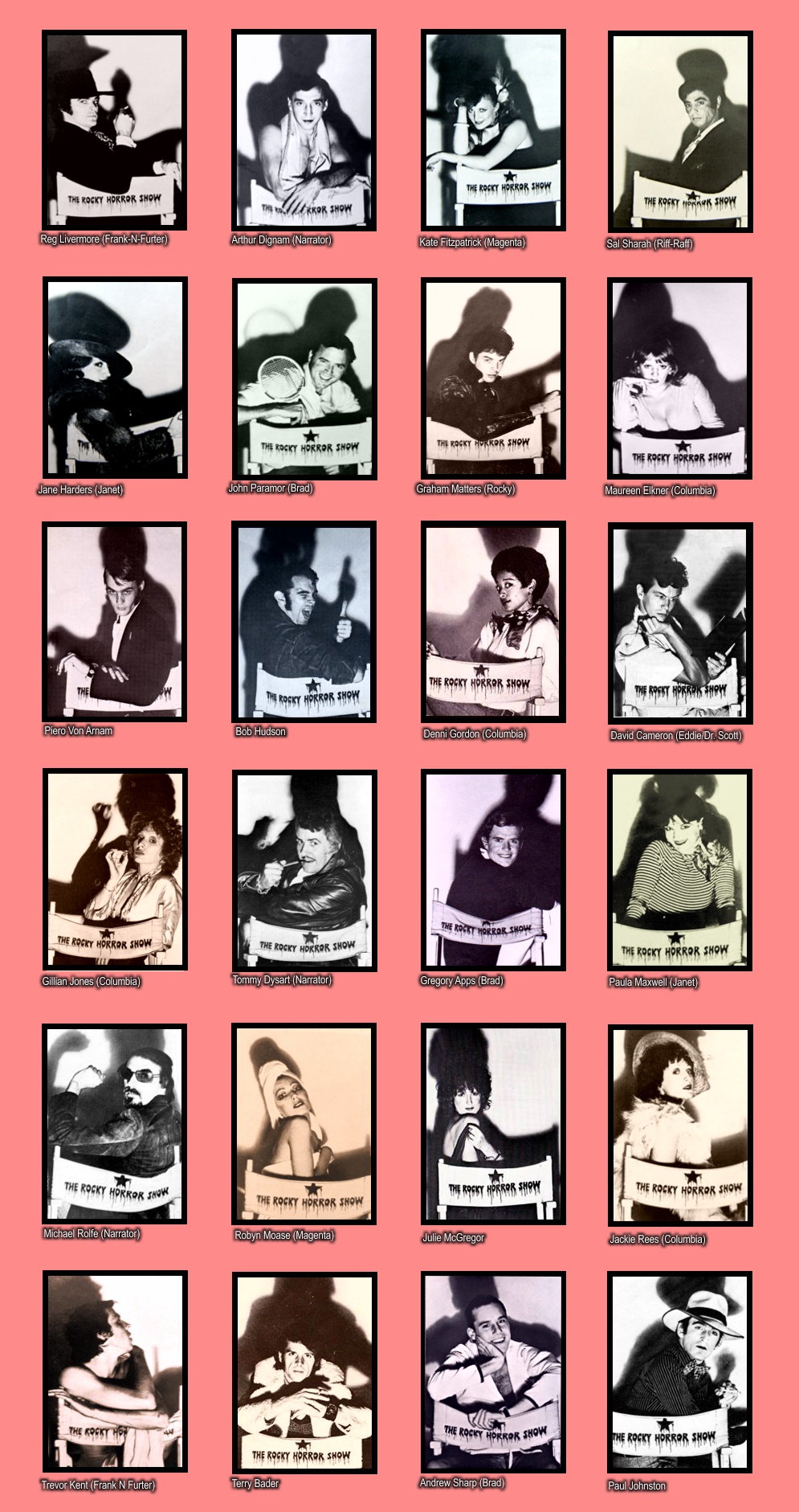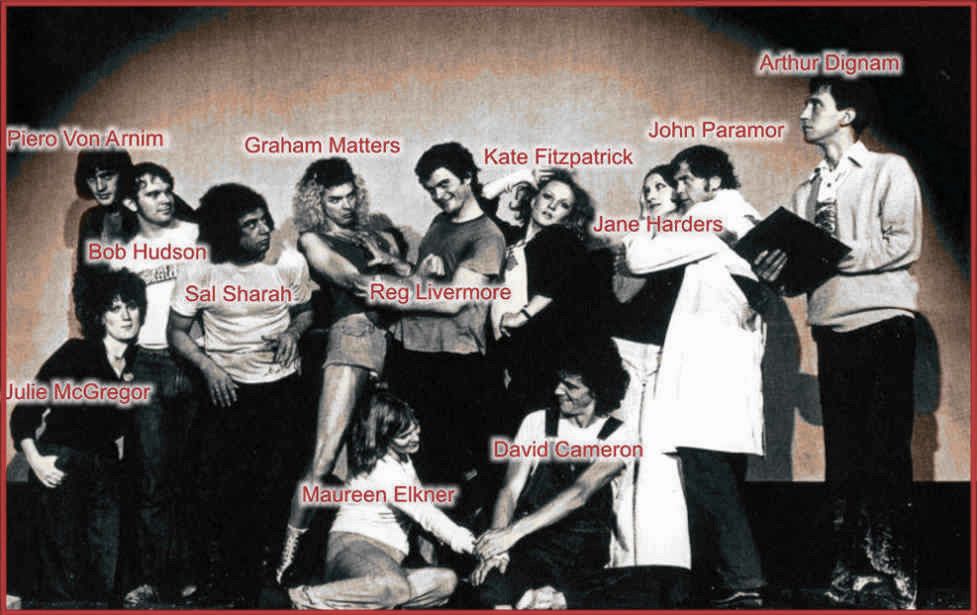 In 2015 the cast reunited
HORROR of horrors for Sue Blane, the English costume designer who's come out to dress the transvestite troupe of The Rocky Horror Show.
She has discovered that Sydney's op shops and old clothes haunts have been picked clean of reasonably priced forties and fifties regalia.
"Even Melbourne, with its op shops, would be better than Sydney." laments Patti Mostyn, chief publicity- getter for the Miller organisation, backers of the "transvestite science fiction rock 'n roll award-winning musical."
They are looking for fish­net stockings, leopard-skin waistcoats, sequined suspender belts and gloves and chiffon slips for the show, which opens at Sydney's New Art Cinema in Glebe on April 19.
The Miller people seem to be anticipating that Rocky Horror will be another Hair; they are talking about a two-year run in Sydney and say that a second company is being recruited for a Melbourne season.
Trevor Kent as Frank 1975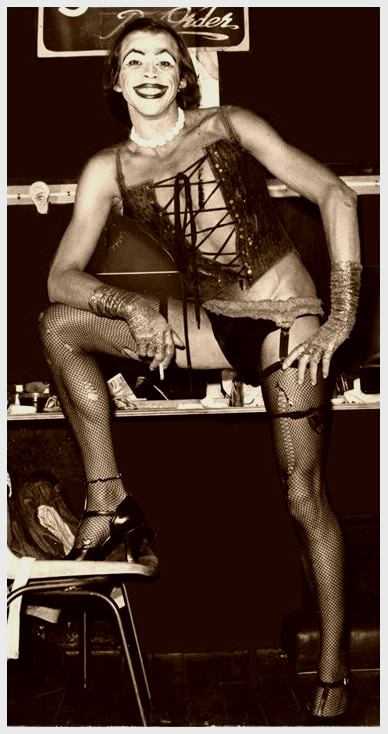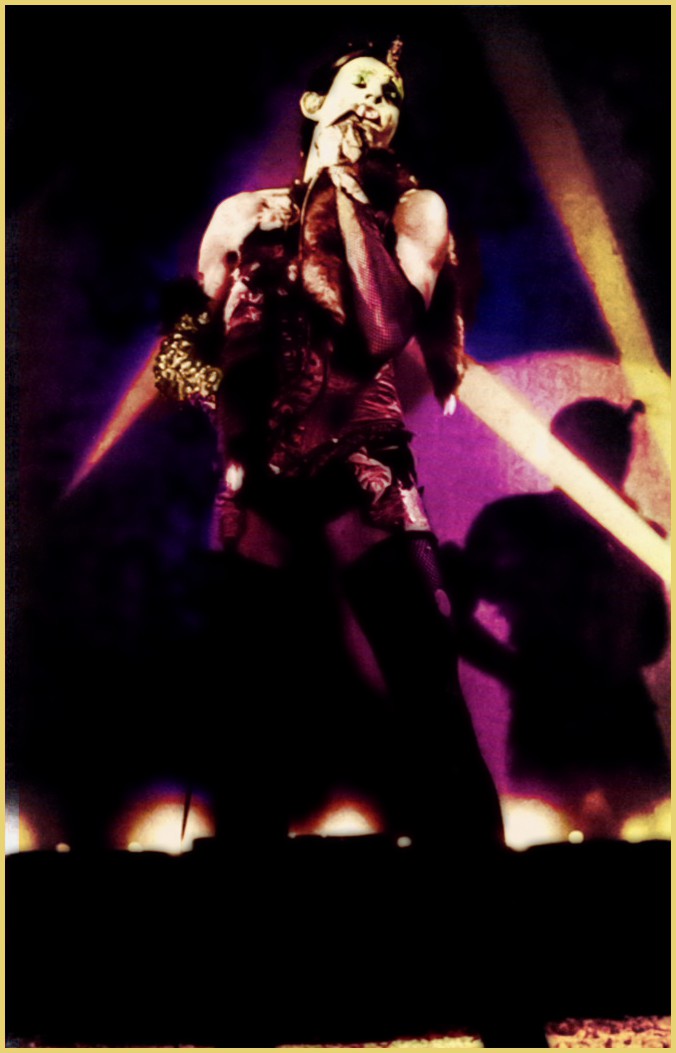 Trevor Kent

(24 April 1940 – 4 November 1989) was an Australian theatre and television actor who achieved a level of public recognition in the 1980s.

Kent initially worked as a primary-school teacher, teaching for three years in Nambour and Buderim in Queensland while acting in amateur theatre groups. Kent moved to Sydney to train as an actor with the Independent Drama School in the early 1960s, supporting himself during this time with teaching.

In Sydney he understudied the role of Rolfe in the Tivoli Theatre's production of The Sound of Music, and acted in Beckett and Oh Dad Poor Dad Momma's Locked You in the Closet and I'm Feelin' So Sad with the Independent. After two years in Sydney he emigrated to the UK and spent ten years there. In the UK Kent worked with the Royal Shakespeare Company. On returning to Sydney in 1974, Kent played Frank'N'Furter, replacing Reg Liverrmore, in the Sydney production of The Rocky Horror Show.

Several appearances on Australian television followed, including roles in Rush, The Sullivans, Cop Shop and Carson's Law. He moved to Melbourne in 1984 and in 1984–1985 appeared in television soap opera Prisoner as the villainous Frank Burke for several months.

Kent, who was gay, learned he was HIV positive in the mid 1980s and at that time volunteered as a care-taker for people living with HIV and AIDS. He was public about his HIV status and directed two theatre productions for Out Theatre Company that addressed HIV and AIDS. One of these, Unnatural Acts, toured pubs, theatres and colleges in Melbourne and Sydney.

Kent continued to work with the theatre group until a few weeks before his death in 1989. His final acting appearance was a scene with Meryl Streep in the film A Cry in the Dark (1988).

After Trevor left the role, Arthur Dignam, wore Frank's costume, for a few performances!

PHOTOGRAPHS BY PHILIP MORRIS

Andrew Sharp took the role for the last 6 weeks of the run in 1975.

Andrew Sharp

For the final few performances, Max Phipps took the role, before opening in Melbourne. His characterization grew after Sydney.